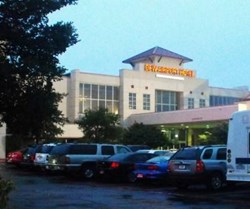 "Our efforts are focused at creating deals which lead to great savings..."
Dallas, TX (PRWEB) January 31, 2014
Greenbee Parking, a fast growing airport parking service, has just released a series of new deals for all travelers using the Dallas (DFW) airport. With their innovative deals and extremely cost effective options they have come out as a winner for all airport parking choices. In fact, with their latest offers they claim that travelers will no longer need to look for cheap DFW long term airport parking coupons or other seasonal discounts to save on airport parking expenses. There are multiple options for both long and short term bookings which mean that all kinds of travelers can benefit from their offers. The entire process is easy and cost effective which saves both time and money for every customer. These features, along with the robust customer support promise to completely change the airport parking experience for travelers here.
"Our efforts are focused at creating deals which will lead to great savings round the year without the need for special deals," said Christine Cooper – Marketing Coordinator, Greenbee Parking. "We are confident that with our service and support and our affordable offers we can offer more value for our customers which will negate all needs for cheap DFW long term airport parking coupons."
Dallas-Fort Worth International Airport Parking Information
Dallas-Fort Worth International Airport is one of the largest and busiest airports in the world. It connects with over 200 global destinations every day and is the leading airport for both domestic and international travel. The airport features, wide range of operations and excellent customer service has made it one of the top 10 airports of the world. All major airlines fly through this airport while all major cargo brands have a big hub here. All these combine to contribute to its Texas style reputation which supports both business and leisure travel. It is also one of the most advanced airports in terms of amenities like parking which is larger than most other airports in the country.
Despite adequate public transport options most travelers here prefer to drive to the airport in their own cars which makes it imperative to have more than ample parking space in and around the airport. They are assisted in this with private players like Greenbee Parking who have efficiently stepped in to complement the existing facilities with their own innovative parking options. In fact, their affordable deals have created such great savings options that there is no longer a need to look for cheap DFW long term airport parking coupons to get secure and cheap parking.
The Greenbee Airport Parking Solution
Greenbeeparking.com is the connection between consumers and parking vacancies in close proximity to major airports and seaports. The parking spaces are very affordable because the company has negotiated discounted rates with major hotel chains for the parking spaces that are not currently occupied. Here's how it works.
Greenbee Parking puts the available inventory of parking spaces on their website to be reserved by business and leisure travelers looking for cheap airport parking. This alternative method for finding parking equates to significant savings for the traveler. You can learn more about their offers from (http://www.youtube.com/watch?v=RWc3dqhugFA) or via the web at (http://www.greenbeeparking.com).
About Greenbee Parking
Greenbee Parking is the nation's most innovative long term parking company, with a new way of making long term parking affordable. The company is rapidly adding new airports to its network.