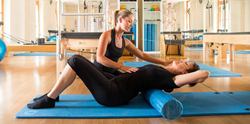 With Pilates I am stronger, more stable and definitely better balanced.
(PRWEB) February 24, 2014
Tamara Gollan, whose company has just released a new blog post titled Here's Our New Pilates Classes Explainer Video, owns two studios in the city's King William Road area of the Australian city, realised the stress she was putting on her body as a champion and professional dancer. It led to numerous physical injuries such as knee and back problems, hip injuries and even ripping all three main ligaments on both her ankles. Her feet too suffered to such as an extent that she forced to give up the career she would later go on to love.
But the determined dancer only made that decision after being introduced to Pilates. And it was a discovery that compelled her to show others too that they no longer needed to live in pain.
"When I grew up, all I wanted to do was be a dancer," said Gollan, who outlines her discovery in the video Here's Our New Pilates Classes Explainer Video. "But within years the injuries began. I began to really struggle with injury after injury. Although I loved dancing it became no fun anymore, knowing I was certain to struggle with pain after almost every performance."
Gollan only discovered Pilates after a friend, distressed at seeing her suffering, advised her to consider taking a class.
She added: "I just fell in love with the exercise straight away. It was incredible the effect it had on both my physical, and mental, well-being.
"I was stronger, more stable and definitely better balanced. Not only that but I wasn't suffering injuries any more. All my aches and pains had disappeared within weeks of regular Pilates practice and my flexibility was the best it had ever been. I was so excited about my discovery and new-found health that I just wanted to share it with as many others as I possibly could and to let them know that contrary to popular belief, aches and pains didn't necessarily need to be a fact of life once you reached a certain age or indulged in lots of exercise."
Determined Gollan immediately signed up for an instructor's course and began teaching Pilates on a part-time basis while continuing to run a dance company. Today her Pilates business is so well subscribed that she now employes two other fully-qualified Australian Pilates Method Association (APMA) Pilates instructors and runs a series of classes, specialising in rehab, pregnancy and post-natal care. Individualised classes are available for those suffering from a number of physical ailments such as headaches, sciatica, arthritis and neck pain as well as general toning and general relaxation. Other specialist services include Allegro Reformer Classes which focuses on a fast-paced workout, and Barre Classes - a combination of Pilates, Yoga and Sports Toning. Gollan's clients are both male and female and range from as young as 12 to aged 80 and over.
She enjoys seeing her clients leave her studios pain free, with stronger bodies and, importantly, feeling good within themselves. To benefit from Gollan's company's teaching see her website here. where you'll also find a class schedule.