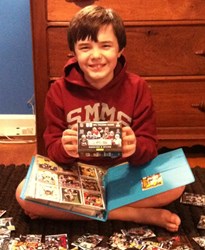 Irving, Texas (PRWEB) January 24, 2014
When 12-year-old Virginian Curtis Case completed his holiday list late last year, the sixth-grader at Scott Memorial Middle School in Wytheville, Va., made sure to scribble "a box of football cards" somewhere near the top. A few weeks later, that holiday wish came true in the form of an eight-pack blaster box of Panini America's 2013 Rookies & Stars Football that his mom, Sherri, picked up at the Christiansburg, Va., Target store.
As it turned out, Curtis ended up with so much more than 80 new additions to a collection he's been working on for the last four years. As luck would have it, he ultimately ended up with the dream trip of a lifetime to New York City and Super Bowl XLVIII.
Each of Curtis' eight packs included an entry card for the Panini Super Bowl Kid Reporter contest. He entered the codes, then went back to admiring his new cards. Days passed, Curtis returned to school after the long holiday break and life got back to normal — until Curtis and his dad, Jackson, were notified that their contest entry was selected for the grand-prize: A week-long trip to New York for Curtis to cover Super Bowl XLVIII Media Day and a number of other Super Bowl-related Panini activities – including NFL player appearances, events with the Pro Football Hall of Fame and the Panini Pop Warner Skills Clinic featuring NFL players – for The Knight's Lance, the Official Blog of Panini America.
At the end of that whirlwind week, Curtis and his dad will attend Super Bowl XLVIII between the Denver Broncos and Seattle Seahawks.
"I was really excited; but my dad's probably more excited than I am," Curtis said. "He's always wanted to go to a Super Bowl. My friends said it was really cool and were really happy for me. One of my friends won a cruise to Hawaii and another one got to fly to Greece, but they both said they'd rather have my trip. The principal says it's OK to miss school for a week and I think a lot of the teachers are excited. I'll probably have a lot of work to do when the week is over."
But a little make-up work is a small price to pay for such a fantasy vacation — especially for a Pittsburgh Steelers fan (thanks to Dad's power of persuasion) who lists the Broncos as his second-favorite team because, as Curtis said, "I grew up in Knoxville, Tenn., next to the stadium where Peyton Manning played in college."
"The Panini Super Bowl Kid Reporter is a program we launched across three 2013 Panini NFL products — Rookies & Stars, Absolute and Contenders — at national retailers that provided a compelling platform across the entire NFL season and is part of Panini's effort to continue to grow and build the next generation of trading card collectors," said Jason Howarth, Vice President of Marketing at Panini America. "The Grand Prize, a once-in-a-lifetime trip for one young collector and their parent to be part of the NFL Super Bowl experience and the opportunity to bring Panini trading cards to life by engaging directly with NFL players, is something we felt delivered on our brand promise to bring collectors closer to their favorite NFL stars."
Now, because Curtis turned one box of 2013 Rookies & Stars Football into one of the greatest holiday presents ever, he'll get to engage with the stars of Super Bowl XLVIII.
"I can't wait," Curtis said.
Panini America is the only company in the world that manufactures licensed trading cards and stickers for the NBA, NFL, NFL PLAYERS, NHL, NHLPA, MLBPA and FIFA World Cup. The company also has exclusive relationships with USA Baseball, USA Basketball and the U.S. Soccer Women's National Team. In addition Panini also has relationships with the Pro Football Hall of Fame, Naismith Memorial Basketball Hall of Fame and the National Baseball Hall of Fame and owns exclusive entertainment licenses with Disney, One Direction, Justin Bieber and Michael Jackson, and more than 600 global licenses with other sports and entertainment properties.
About Panini:
The Panini Group, established almost 50 years ago in Modena, Italy, has subsidiaries throughout Europe, Latin America and the United States. Panini is the world leader in officially licensed collectibles and is the most significant publisher of collectibles in the U.S., with official licenses for MLBPA, NBA, NFL, NHL, FIFA, USA Baseball, Disney, Nickelodeon, Warner Bros. and other key properties from many other licensors. Panini has distribution channels in more than 100 countries and employs a staff of over 800. For more information visit us at http://www.paniniamerica.net, http://www.paninigroup.com or http://www.paniniamerica.wordpress.com. You can also follow Panini America on social media platforms Facebook, Twitter and on YouTube.