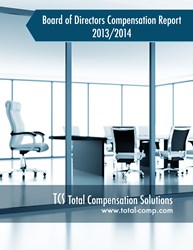 This marks two consecutive years of increases in Board pay after compensation remained flat in the previous two year period.
Armonk, NY (PRWEB) January 27, 2014
Board of Directors pay increased moderately compared in the past year according to a study published by Total Compensation Solutions (TCS). Board compensation experienced increases ranging from 1.8% for Regular Board Members to 4.7% for Chairman, on average, for total cash compensation.
TCS observes a continuation of the upward trend in Board compensation that we reported last year. This marks two consecutive years of increases in Board pay after compensation remained flat in the previous two year period. This upward movement is not a surprise given the healthy performance of the stock market over the last 12 months.
Before the financial downturn of 2008, TCS observed Board compensation increasing annually at a rate of approximately 15% per year (on average) for approximately ten years. These increases were easy to explain given the increased responsibilities and time commitments for Board service. Now, after the recession, TCS has observed more modest increases to Board pay. This seems to reflect a more cautious approach due to the greater level of scrutiny that currently challenges most corporate Boards.
The 2013/2014 Board of Directors Compensation Report reveals the compensation and governance practices of the 502 companies in this study. TCS compiled data on these U.S. Corporations in 11 industry groups (Banking, Biotechnology, Chemical, Consumer Goods, Energy, Financial, Healthcare, Insurance, Leisure, Media & Technology). In addition to cash compensation, the TCS study also reports stock compensation (including initial stock grants), board structure (including number of directors and meetings), committee structure and governance policies.
TCS also observes that for the first time since the inception of this report more companies report using retainers only rather than a combination of retainers and meeting fees for their cash compensation. Exactly half of the companies in the study report using retainers only and 48% of companies report that they use both retainers and meeting fees.
Some additional points of interest in this study include:

The healthcare industry has the highest average total cash compensation for non-employee chairman, lead director and regular board member.
Twenty-four percent of companies report giving an initial stock grant to new board members.
Phone/virtual meeting fees are on average approximately half to two-thirds of in-person meeting fees.
Copies of the 2013/2014 Board of Directors Compensation Report are available from TCS (http://www.total-comp.com). If you have questions regarding this report, please call TCS at (914) 730-7300 or email questions to: Tom Bailey tbailey(at)total-comp(dot)com or Paul Gavejian pgavejian(at)total-comp(dot)com.
Total Compensation Solutions is an independent human resources consulting firm that assists clients in achieving their strategic compensation objectives. The firm uses market data to identify best practices in a variety of topical areas including: board compensation; executive, middle management and staff compensation; performance management; organization structure; health and welfare; and retirement benefits. From offices in Armonk, NY, TCS gathers and reports information on compensation, personnel practices and benefits and applies the most effective, market-driven solution to each organization's unique set of circumstances. TCS provides comprehensive compensation consulting services to organizations in a variety of industries. For more information on TCS, visit http://www.total-comp.com or contact us at:
Total Compensation Solutions
200 Business Park Drive
Armonk, NY 10504
Phone: (914) 730 – 7300
Fax: (914) 730 – 7303