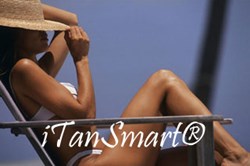 iTanSmart helps prevent over exposure to the sun which may lead to dangerous forms of skin cancer.
Fort Myers, FL (PRWEB) January 27, 2014
Taking chances with the sun's dangerous rays is no longer necessary with the introduction of iTanSmart. Most sunbathers use their reddened skin to tell them to seek shade but by that time the damage is already done. Half of all adults report at least one sunburn in the past 12 months. Sunburns are not only painful they are potentially dangerous. Skin cancer is the most common form of cancer in the United States with more than 3.5 million skin cancers diagnosed annually. Each year there are more new cases of skin cancer than the combined incidence of cancers of the breast, prostate, lung and colon.
iTanSmart is a free app made for Apple iPhones and iPods that helps take the guesswork out of sun tanning by alerting the user when to get out of the sun before getting burned. iTanSmart also educates the user about the sun's rays, suntan lotions and protection factor (SPF).
iTanSmart uses five factors: UV index, time of day, skin type, sunscreen's SPF, shaded or direct sunlight and alerts the beach goer when to get out of the sun before getting burned.
iTanSmart alerts the user with audible chimes and screen notifications when it's time to re-lotion, get out of the sun, and when the minimum and maximum recommended amount of Vitamin D for the day has been produced. This all occurs all while listening to iTunes or using other features on the device.
A full paid version of iTanSmart provides a list of medical conditions and related drugs that can increase sensitivity to the sun. The full version also offers a special child setting which takes into account the sensitive nature of a child's skin. In addition, the full version iTanSmart can also keep track of your total daily sun exposure and Vitamin D production.
iTanSmart is simple to use, and with in a few seconds, you can rest assured that you have helped protect your skin from over exposure to the sun.
About UV Technologies, LLC:
UV Technologies, LLC's mission is to provide innovative products for customers' health and well-being. iTanSmart is a sun tan application developed for Apple iPhones and iPods. UV-Aid helps prevent cold and flu. UV Technologies is an accredited business member of the Better Business Bureau. Visit http://www.uvaid.com for more information.