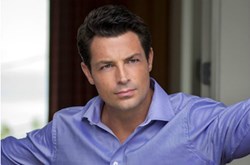 I've never heard a response from anyone who watches this show that doesn't come away going, 'I really enjoyed that show. It's not complicated, it's simple, and I really enjoyed it.' That's the most rewarding thing.
(PRWEB) January 25, 2014
From guest spots on 'Bones' to 'Grey's Anatomy,' Brennan Elliott has been making a name for himself on the small screen. Currently, he's starring in a series regular role on Hallmark's 'Cedar Cove.' Elliott recently catted with TVRage.com's Senior Writer Anthony Marcusa about his lead role, his overall career and his upcoming movie.
Here's an excerpt from the interview:
"TVRage: Let's start our conversation with 'Cedar Cove.' What is in store for your character, and how do things change since you've been promoted to a series regular?
Brennan Elliott: In the first season, we shot 13 episodes and I was in nine of them, and this year I think I'm in ten, so the amount will feel similar. We were still fleshing out the character last year and fleshing out the story and even the show itself. We really didn't know where a lot of us were going.
At the end [of last season], I'm taken off to jail. I know I didn't do anything wrong, I was caught in a mess, but I don't know where they're going. I tried to stick to the books in the beginning, but we got away from it, which I think is more interesting. The books have a long main thread, and pieces of characters appear throughout.
Fans really loved Warren, though, so they developed it a bit more. I'm kind of running by the seat of my pants here, I can't wait to see where it's going. The excitement for me is to see the first script and see where it's taken.
TVRage: What is it about your character that fans love so much?
Elliott: He's kind of considered the bad guy on the show, and I think it's a testament to some of the colors I've brought to him. He's not a bad guy in my mind, not a bad person. He's a guy dealing with a lot of insecurities with relationships; he has wanted to meet the right person and is obviously in love with someone who doesn't really love him back. With that dynamic, I think people feel the need for love, need for relationships, and the struggles you go through to impress that person you really want to be with.
He's also kind of a bit of a cad, he tries to do the right thing, but every time he does, people go and say that was the wrong thing to do (laughs). That's how he is. He feels like, well, this is going to work, and then it ends up not working. We respond to that humor and lightness. It's a fun character to play."
'Cedar Cove' returns to the Hallmark Channel this summer.