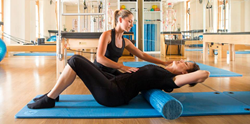 Pilates can help you become the strongest person you have ever been.
(PRWEB) February 25, 2014
The director of well-known Adelaide Pilates and Barre studios Inner Strength Pilates insists the exercise - a Pilates abductor routine which she demonstrates in her new blog post titled Pilates Abductor Exercise to Strengthen the Inner Thighs - will lengthen and tone inner thigh muscles in addition to strengthening core and hamstring muscles. The exercise, she says, is guaranteed to make "inner thighs burn."
She warned though that the routine should really be done under instruction unless the participant was already familiar with the exercises and had been recently engaging in them. The aim of the moves is to primarily strengthen the abductor muscles.
In her video, entitled Pilates Abductor Exercises to Strengthen Your Inner Thighs, Gollan sets out clearly, in a series of easily-followed step by step instructions, how to carry out the exercise with safety and precision.
A devout Pilates fan after seeing the benefits of the exercise for herself through suffering multiple exercises as a dancer at a young age, Gollan says: "Pilates is just amazing and can help you really become the strongest person you have ever been - provided, that is, you attend a studio where you are guaranteed to receive personalised attention and are taught how to engage your core correctly. I can't stress enough how important this is."
Gollan added that many individuals were, unfortunately, weak in the abductor area due to the fact that those muscles were very rarely used on a day to day basis. Her technique is one she refers to as "The Magic Circle." It involves lying on the back and placing the soles of the feet in a set of straps. It's essential to ensure, she insists, that the spine is in a neutral position. The circle should be placed between the ankles and the hands on a set of poles. The poles should then be squeezed and gripped to ensure there is no sensation of "slipping.'
Breathing is very important. There should be an in breath initially in order to prepare the core muscles. The legs should then be lowered slowly to the ground as far as possible - remembering to squeeze the circle throughout. In order to come back to the same position, an exhaled breathe is necessary.
Often, Gollan says, an individual can find that one leg may be stronger than the other. In which case it can cause them to feel rather "wobbly" and the exercise itself prove difficult. The aim is to have both legs working at the same time to ensure a smooth motion.
Another benefit of this is that it also boosts the hamstring muscles which, in turn, will undoubtedly benefit those currently suffering from some form of back injury.
Gollan recommends engaging in around 10 to 15 sets of the Magic Circle exercise in order to achieve that necessary "burning in the inner thighs."
In her video she goes on to offer various alternatives such as bending the legs in a certain fashion. The important aspect, she insists, is to concentrate fully and to and ensure that both legs are working simultaneously - otherwise it's all too easy to lose the circle. The exercise can also be deceptively difficult, she warns.
Gollan is a professional dancer who was introduced to the benefits of Pilates for herself and has never looked back. Her aim now is to help as many individuals as possible and to show them that - contrary to popular belief - it's not necessary to live with aches and pains throughout their lifetime. She currently runs two studios under the company name Inner Strength Pilates, in Adelaide's King William Road area where she has clients aged from as young as 12 right up to age 80 and beyond. She concentrates on rehab, pregnancy and post-natal care but is also highly-acclaimed for her work in general toning and relaxation. Her site can be found at http://www.PilatesInnerStrength.com.au. To book a class take a look at the list of class times.