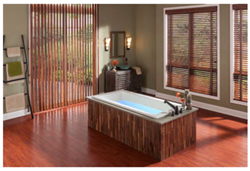 Anaheim, California (PRWEB) January 27, 2014
WHAT: See today's most innovative bathware for multigenerational households, on display in the Fire Island home, part of the Show Village exhibit at the 2014 International Builders Show (IBS), which will be co-located with the Kitchen & Bath Industry Show (KBIS). Aquatic is the exclusive provider of bathware for the three full bathrooms in this contemporary, Mid-Century Modern-inspired, four-bedroom house. Aquatic products on display include:

A fully functioning Serenity Studio 19 DriftBath(TM). The focal point of the master bath's walk-through, shower/wet room, this tub is an entirely new approach to hydrotherapy and available exclusively from Aquatic.
A gleaming 6032AB acrylic shower pan, also in the master bath, ideal for those who want to replace an existing, prefabricated tub shower area and upgrade to a designer-look, shower-only, tile-up application.
The striking 6032STT DuraCore(TM) subway tile tub shower in a Jack and Jill bathroom. This unit offers the same great look as perennially popular ceramic subway tile but without the work and expense required for installing and maintaining tile and grout.
A 6032APAN acrylic shower pan in the mother-in-law suite. Designed with ease-of-use in mind, the pan has a low threshold for safe entry and exit, and also an integral seat for comfort and convenience.
See the full news release for more information.
WHEN/WHERE: February 4-6 during normal IBS hours in Show Village's Fire Island House, just a few steps outside the IBS Central Hall at the Las Vegas Convention Center.
WHO: Aquatic, the leader in innovative and inspirational bathware, offers the largest selection of tubs, showers and bathware accessories, all superbly engineered and designed. Aquatic's Hydrotherapy, Everyday and Accessible lines include more than 300 products for every need – all inspired and crafted in America.
BACKGROUND: More than 51 million Americans – about one in six – now live in a multigenerational household, according to a 2011 report, "Family Matters: Multigenerational Families in a Volatile Economy," published by Generations United. This represents an increase of more than 10 percent since the recession began. A 2012 Pew Research report showed that the share of Americans living in multigenerational households is at its highest since the 1950s. The trend has significant implications for the homebuilding industry, particularly the bathware segment, and has been inspiring a lot of Aquatic's product development and design in recent years. Today's home, especially bathrooms, increasingly must meet the diverse needs of family members of all ages and abilities.
CONTACT: For more information and/or to schedule a briefing with an Aquatic expert during IBS or KBIS, contact Susan Tull, susantull(at)aol(dot)com, 512.577.2956.