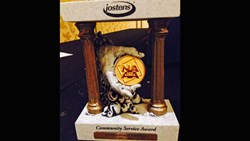 Hoboken, NJ (PRWEB) January 24, 2014
The National Association of Division III Athletic Administrators (NADIIIAA) announced the recipients of this year's NADIIIAA/JOSTENS Community Service Awards, and Stevens Institute of Technology was the winner in the One-Time Project Category.
In the aftermath of Superstorm Sandy, the teams and student-athletes of Stevens mobilized to provide help to those in need in Hoboken. Numerous teams and individuals raised funds, some brought water up high-rises to the elderly who were not able to leave their apartments because of power outages, some prepared and served food at shelters, some helped the National Guard, others volunteered with the Red Cross, and much more.
Their goal was simply to help in any way they could. Their impact was felt by a huge number of people, whether they were the elderly, those in need of food or water, people looking for information, or those in medical need. In one way or another, the Stevens student-athletes touched almost every segment of the community with their selfless determination.
"We would like to think the NADIIIAA and Jostens for their generous support of this award and recognition of community service at the NCAA Division III level," said Rogers. "This honor is shared by many of our student-athletes and staff who truly made a difference in Hoboken after Hurricane Sandy's devastating effects on our town. I could not be prouder of these individuals and look forward to continuing to do everything we can as an athletic program to give back to the community whenever possible."
Each of the selected institutions and conferences is being recognized for the impressive community service projects performed by its student-athletes during the 2012-13 academic year.
"Congratulations to Stevens on earning the National Association of Division III Athletic Administrators Community Service Award for the outstanding service to the people of Hoboken in response to the devastation from Hurricane Sandy," Empire 8 Commissioner Chuck Mitrano said via email. "It is an outstanding reflection of the student-athletes and leadership at Stevens and very well deserved."
The awards program is co-sponsored by the NADIIIAA and Jostens and is intended to recognize the many contributions Division III student-athletes regularly make to their campuses and local communities. Recognition is given for projects in three categories: One-Time Projects, An Array of Projects, and Ongoing Projects. The winners this year in each of the three award categories are respectively: Stevens, SUNY College at Oswego, and SUNY College at Oswego.
In addition to receiving commemorative trophies, the NADIIIAA and Jostens will make a $1,000 contribution to the general scholarship fund at each of these institutions. The awards were presented during the NADIIIAA Reception at the NCAA Convention held in San Diego, California on January 18, 2014.
This marks the third time Stevens received the Jostens Community Service Award from the NADIIIAA. The Ducks were first acknowledged after 9/11 and again in January of 2009 for the department's involvement in the 'Duckling Program' at area elementary and middle schools.
In addition to the overall winners, Salem State University, Albion College, University of Wisconsin-La Crosse, Wentworth Institute, and Johnson & Wales University received "Awards of Merit." St. Mary's University of Minnesota, Wheaton College (MA), Alvernia University, Arcadia University, Springfield College, Otterbein University, Haverford College, Western New England University, and the University of Southern Maine received "Honorable Mention" recognition.
The NADIIIAA is an association comprised of athletics administrators from the nearly 450 institutions and 43 conferences competing at the NCAA Division III level. A primary purpose of the NADIIIAA is to encourage the continued development of athletics programs focused on the student-athlete and based on sound educational philosophy. The honorees were selected by a committee of athletic administrators chaired by Brian Curtin, Director of Athletics at St. Joseph's College in Maine.
Minneapolis-based Jostens is a leading provider of products, programs and services that help people celebrate important moments, recognize achievements and build affiliation. The company's products include yearbooks, class rings, graduation products, school photography, employee and achievement awards, and products for athletics departments and their fans. Jostens is the exclusive sponsor of the NADIIIAA.
The NADIIIAA expresses its appreciation to Jostens for its support of the NADIIIAA and its sponsorship of this award.
About Stevens Institute of Technology
Stevens Institute of Technology, The Innovation University®, is a premier, private research university situated in Hoboken, N.J. overlooking the Manhattan skyline. Founded in 1870, technological innovation has been the hallmark and legacy of Stevens' education and research programs for more than 140 years. Within the university's three schools and one college, more than 6,100 undergraduate and graduate students collaborate with more than 350 faculty members in an interdisciplinary, student-centric, entrepreneurial environment to advance the frontiers of science and leverage technology to confront global challenges. Stevens is home to three national research centers of excellence, as well as joint research programs focused on critical industries such as healthcare, energy, finance, defense and STEM education and coastal sustainability. The university is consistently ranked among the nation's elite for return on investment for students, career services programs and mid-career salaries of alumni. Stevens is in the midst of a 10-year strategic plan, The Future. Ours to Create., designed to further extend the Stevens legacy to create a forward-looking and far-reaching institution with global impact.