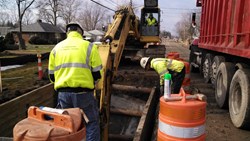 Jaeger Road was a narrow asphalt road within a 40' right of way. The new road will feature curbs, dedicated turning lanes, efficient drainage and a 60' right of way for bicyclists and sidewalks. The project will improve the City of Lorain infrastructure.
Elyria, Ohio (PRWEB) January 29, 2014
KS Associates, Inc., a civil engineering and surveying firm located in Elyria, Ohio, has completed design and is providing construction-phase services for the Jaeger Road Improvement Project in the City of Lorain, Ohio. This 1.25-mile project calls for correcting deficiencies in pavement, improving traffic flow and providing a safer and more reliable route for the traveling public. The project, with a construction cost of $4.7 million, will also improve access to commercial and residential property along Jaeger Road. Construction is underway and the project is scheduled for completion in September 2014.
The project includes removing the existing deteriorated asphalt roadway and reconstructing it with concrete pavement, which is designed to reduce the need for future costly and inconvenient repairs; constructing more than 4,000 feet of new sewer with more than 80 catch basins and yard drains for improved drainage; installing five-foot sidewalks and a shared-use roadway to accommodate bicycle traffic; adding turning lanes and new traffic signals at the Kolbe Road and Leavitt Road intersections; and addressing grading at the Kolbe Road intersection to improve lines of sight and greater driver visibility, thus enhancing safety.
According to Mark B. Skellenger, P.E., Vice President of KS Associates and Principal in Charge, "Jaeger Road was a narrow, two-lane asphalt road within a 40-foot right of way. When reconstructed, the new, Jaeger Road will feature curbs, dedicated turning lanes, an efficient drainage system, and a 60-foot right of way to accommodate bicyclists and sidewalks. The project will help to improve the City of Lorain's transportation infrastructure."
About KS Associates:
KS Associates is a civil engineering and land surveying firm founded in 1987. The firm provides planning, design, bidding and construction phase services related to public infrastructure projects in the areas of transportation, potable water, waste water and storm water; site development engineering services for institutional, commercial and residential uses; coastal engineering services; land surveying and mapping services; and 3D laser scanning services. KS Associates is a Disadvantaged Business Enterprise (DBE). For more information visit: http://www.ksassociates.com.