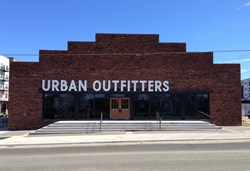 Philadelphia, PA (PRWEB) January 24, 2014
Urban Outfitters will open in Tallahassee, Florida, Saturday, January 25th in the Collegetown area of the city. Located on the 700 block of South Woodward Avenue, the 18,000 square-foot store will serve as a shopping destination for FSU students and those living within the thriving Gaines Street District.
"Urban started at the University of Pennsylvania campus, and we think of ourselves as a college store. We have been looking for a few years in Tallahassee and finally found the right spot in the old tobacco warehouse," said John Hauser, Chief Officer of Brand Experience, Urban Outfitters. "We also had a 4-city 'store on tour' a few years back, and Tallahassee had the best reception of all of them. We are excited to be part of the Collegetown project!"
An old tobacco warehouse no more, the massive Urban Outfitters offers a full assortment of Women's and Men's apparel and accessories as well as apartment and home product for college and post-college lifestyles. The space also features an ever-expanding vinyl record shop outfitted with a collection of vintage guitars, record players and rock posters. The outside courtyard features seating and a stage for live shows and will serve as an area for guests to hang out, play games and socialize. There will also be an ON/OFF Coffee Trailer that will serve fresh coffee, tea, Mexican Cokes and snacks from local vendors. "With the large space, we wanted to try some new ideas," says Hauser. "We purchased the trailer near Palm Springs and had it retrofitted for a coffee café," he adds.
About Urban Outfitters:
Urban Outfitters is an eclectic lifestyle retailer dedicated to inspiring customers through a unique combination of product, creativity, and cultural understanding. Founded in 1970 in a small space across the street from the University of Pennsylvania, Urban Outfitters now operates over 200 stores in the United States, Canada and Europe offering experiential retail environments and an eclectic mix of curated women's, men's, accessories and home product assortments. For more information visit Urban Outfitters on the web at http://www.urbanoutfitters.com.
For more information please contact Crystal Carroll at ccarroll(at)urbanoutfitters(dot)com.