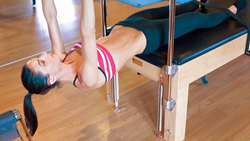 You can improve your hamstrings at home using either a Pilates or a tennis ball.
(PRWEB) February 27, 2014
Gollan, a devoted Pilates fan herself after discovering its benefits during her dance career, says the exercise will be of use to many people as tight hamstrings are a very common problem amongst the population in general. The two studios she manages in Adelaide see many clients with walking and running difficulties caused by tight hamstrings.
In her new blog post Amazing Pilates Back Pain Exercise to Increase Hamstring Flexibility Gollan shows a quick and easy test that people can do to test their own hamstring flexibility. The test, as she demonstrates, involves lying on your back and straightening one leg aiming for a 90 degree angle from the body. The closer to 90 degrees, the better she says.
If anyone is struggling to achieve the 90 degree angle, Gollan says, then they do need to work on their flexibility and the video Amazing Pilates Back Pain Exercise to Increase Hamstring Flexibility demonstrates how to do just that. Tight hamstrings have a knock-on effects on other areas of the body, Gollan adds. As a result, the exercise will help the body overall. This exercise can be done at home with the help of either a Pilates ball or a tennis ball.
Gollan explains, is often due to problems with the body's fascia – the connective tissues which surround the muscles. In the video, Amazing Pilates Back Pain Exercise to Increase Hamstring Flexibility, she encourages people to think of the back fascia as a spider web running from the big toe, going underneath the sole of the foot, up through the calf, then the hamstring, the glutes, and all the way up through the shoulder blades to the crown of the head.
"If the fascia gets tight, or you have an injury," Gollan says, "then you need to work on your hamstring flexibility. What you need to do is place one foot on the tennis ball with the ball under your toes and put as much pressure on the ball as possible. Stay in position for 90 seconds and then swap the feet.
"You can test if this has worked by lying down on your back afterwords, straightening one leg and pulling it towards you – you should be able to pull your leg closer to the body."
Tight hamstrings is a common problem with clients coming into Gollan's Pilates studio. Many people have focused on hamstring muscle stretches which has not got them the results they have wanted, but by focusing on a stretch which works on the body's back fascia, they can see amazing results straight away.
She warns that those who have plantar fasciitis (a condition which causes pain underneath the heel which then spreads to the rest of the foot) should exercise caution when trying out the stretch and that they should be gentle.
Through her two very successful studios Gollan's aim is to show people that it is not necessary to live with aches and pains. She concentrates on rehab, pregnancy and post-natal care, but is also highly-acclaimed for her work in general toning and relaxation. Her website can be found at http://www.pilatesinnerstrength.com.au. where there is also a Pilates class timetable.