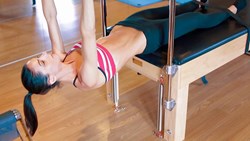 This is an excellent exercise for pregnant women to help them avoid abdominal separation.
(PRWEB) February 21, 2014
The Pilates expert, who discovered the multiple benefits of this form of exercise when she used it to recover from the injuries she sustained through her dancing career, currently posts regular free demonstrations of Pilates exercises on her YouTube channel. The latest is title Pregnancy Pilates Workout To Strengthen Core and Minimise Abdominal Separation.
Her latest offering, which can also be viewed on her blog post Pregnancy Pilates Workout To Strengthen Core and Minimise Abdominal Separation is a safe, gentle and effective exercise. Doing this exercise can minimise abdominal separation, a condition where the two large bands of muscles in the abdomen separate during pregnancy and which can result in lower back pain or difficulty when lifting objects or a baby.
Gollan, who runs two very highly successful Pilates studios in Australia, is the mother of a 14-month-old boy and she used Pilates throughout her pregnancy to strengthen her core muscles. As a result, she did not suffer from abdominal separation. Her studios specialise in pregnancy and Pilates, as well as other rehabilitative exercises which can help people live without aches and pains. Gollan says pregnant women experience a lot of changes in their body which can result in pains.
She explains: "What this exercise does is strengthen the core so that the tummy stays strong and the abdominals return to what they were pre-pregnancy. This simple and effective exercise is called hip rolls.
"You start by laying down on the floor with your legs at a 45 degree angle. You take a deep breath in, breath out, engage your core and let your knees relax to one side. Breath in and breath out one more time and let your knees relax to the other side."
The key to the exercise, Gollan says, is to imagine that your legs are paralysed so that is the your tummy that must do all the work to move your knees from side to side. If you are worried about cutting off the blood supply to your baby, Gollan suggests that you place a pillow under you hips on the right hand side. The exercise, however, is very safe to do, and is very effective for stretching out the back. She does warn though, that engaging the core muscles is not as easy as it sounds and that women should learn how to do this properly in a Pilates studio.
Gollan's Inner Strength Pilates studios focus on pregnancy and Pilates, as well as other solutions for people who want to keep their bodies as fit, flexible and healthy as they can. Gollan features regular and useful Pilates exercises on her YouTube channel which viewers can try out for free. Her two studios are based in Adelaide's King William Road area, where she has clients from as young as 12 right up to the age of 80 and beyond. She concentrates on rehab, pregnancy and post-natal care, but she is also well-known for her work in general toning and relaxation. Her website can be found at http://www.pilatesinnerstrength.com.au. For times of classes check out the class schedule.