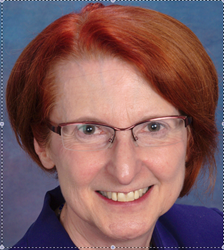 "Human trafficking is an epidemic that demands our attention 365 days a year."
Holden, MA (PRWEB) January 28, 2014
Thousands of football fans will converge on East Rutherford, New Jersey on February 2 for the 48th Super Bowl--looking forward to the excitement of this annual event. The rivalry of the players...the rivalry between the coaches...the creative commercials...the halftime entertainment...the parties. With the proximity to New York City, the parties are expected to be even more extravagant than in the past. According to a story in USA Today (November 5, 2013), the "New York locale sets the bar higher for parties to impress."
According to Barbara Ingrassia, a medical librarian and educator who has developed a course for medical students on how to spot some of the warning signs that a patient may be a victim of human trafficking, 'The hospitality industry is guaranteed an upsurge in business, and extra staff will be required. Some of those staff may not come to work of their own free will."
Ingrassia, who is Manager of Research and Development for The MotivAct Group, further states, "One aspect that will likely receive little media attention is all the people who will not be going to New Jersey and New York City for the fun...and not willingly."
"New Jersey has a huge trafficking problem," U.S. Rep. Chris Smith, R-NJ, who is co-chairman of the House anti-human trafficking caucus, told the Associated Press. "One Super Bowl after another after another has shown itself to be one of the largest events in the world where the cruelty of human trafficking goes on for several weeks."
Smith told the Associated Press that the state of New Jersey has been preparing law enforcement personnel for the past year for crimes, including trafficking, expected to surround the event. They have also trained hospitality and transportation staff in identifying potential victims of trafficking. Even truck drivers have been trained in the past few month to spot people being held against their will.
According to Ingrassia, The New Jersey Coalition Against Human Trafficking is sponsoring a social media campaign ("The Half Time Challenge") that will take place leading up to the day of the Super Bowl to spread the message of abolishing human trafficking--which is, in fact, modern day slavery. "The HT Challenge" is encouraging Super Bowl viewers to turn off their TV during halftime, discuss human trafficking, and simultaneously post images, statistics and/or quotes, via any social media, using #HalftimeChallenge and #HTchallenge.
Ingrassia says that, according to the Polaris Project, sex trafficking spikes in the cities that host major sporting events.
"As the Super Bowl ranks second only to Thanksgiving as the day in which Americans consume the most food, some of those who are trafficked will serve food in restaurants or at catered parties," says Ingrassia. "Others will clean hotel rooms or wash dishes; some will tidy nail salons, deliver dry cleaning or wash windows."
Ingrassia points out that The Polaris Project, a leading organization in the global fight against human trafficking and modern-day slavery, provides a Human Trafficking Cheat Sheet and other resources about human trafficking in the United States and worldwide. The non-profit, non-governmental organization founded the National Human Trafficking Resource Center (NHTRC)--a national, toll-free hotline, available to answer calls and texts from anywhere in the United States, 24 hours a day, 7 days a week, 365 days a year. Call 1-888-373-7888, or text BeFree (233733).
According to The Polaris Project, human trafficking is a form of modern-day slavery where people profit from the control and exploitation of others. As defined under United States federal law, victims of human trafficking include children involved in the sex trade, adults age 18 or over who are coerced or deceived into commercial sex acts, and anyone forced into different forms of "labor or services," such as domestic workers held in a home, or farm workers forced to labor against their will.
The factors that each of these situations have in common are elements of force, fraud, or coercion that are used to control people, according to Ingrassia. Then, that control is tied to inducing someone into commercial sex acts, or labor or services. Numerous people in the field have summed up the concept of human trafficking as "compelled service." Every year, human traffickers generate billions of dollars in profits by victimizing millions of people around the world, and here in the United States. Human trafficking is considered to be one of the fastest growing criminal industries in the world. It is a market-based phenomenon driven by two primary factors: low-risk and high-profit. It is a $342 billion dollar industry--more annual revenue than all professional sports combined.
Ingrassia points out that January is National Human Trafficking Awareness Month. "But," she says, "this is an epidemic that demands our attention 365 days a year."
Anti-trafficking billboards have already been launched in Phoenix--the host city for Super Bowl 49 in 2015.