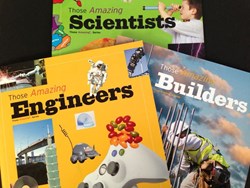 'Teachers need tools that help students connect what they study with their daily lives,' said Rose Reichman, Trilogy partner.
Englewood Cliffs, NJ (PRWEB) January 27, 2014
Educators are learning that getting students of all ages to embrace science, technology, engineering and math curriculum (STEM) is all about making connections—showing real life examples and how they affect a student's world. And that's what Trilogy Publications and the latest 'Those Amazing...' books are all about—making connections.
"Teachers need tools that help students connect what they study with their daily lives. Our books use examples of projects that young people can relate to, projects that affect their lives or their communities and excite their imaginations," said Rose Reichman, a partner with Trilogy Publications, a group of communicators dedicated to encouraging students to seek rewarding career paths. Trilogy's Those Amazing… books for upper elementary, middle and high school students—Those Amazing Engineers, Those Amazing Scientists and Those Amazing Builders—address engineering, science, and construction from real life perspectives, with information on career opportunities and career paths. Suddenly, kids can connect the dots between math and science and designing and building a sports stadium. They can see, for example, how designing the structure of a stadium relates to their education and, maybe, a career.
According to an editorial in the New York Times (Who Says Math Has to be Boring?, December 7, 2013), "Research has shown that the right mix of career and technical education can reduce dropout rates… and make students aware of careers that are now being ignored. Take engineering, for example, a field that pays well and needs ever more workers. Most high school students say they have no interest in the subject. That's largely because few of them ever encounter it."
"What I like about being part of this effort is that it speaks to the natural relationship between students and educators. Teachers are in a unique position to channel a young person's natural curiosity," said Jeffrey M. Levy, CEO of RailWorks, a major construction company, and advisor to the Those Amazing… series. "The fastest growing occupations need some STEM education, and the growth of college degrees in STEM fields isn't accelerating as fast as other fields. We need every available tool to help students and teachers connect what students learn to their future career options, and that's what the Those Amazing… books do."
Educators—teachers, guidance counselors and school districts—can order books and take advantage of the teacher's guides available online on the Trilogy website. In addition, an Adopt-a-School program allows educators to apply for free copies of Those Amazing…books on Trilogy's website. At the same time, corporations can sign-up to sponsor books in Trilogy's Adopt-A-School program. "Trilogy is working hard to pair sponsors with school requests," said Reichman.
"Experts say creativity is as important as literacy," added Reichman. "Books like Those Amazing… encourage students to engage in STEM-related activities and imagine how science, math, engineering and technology can impact their lives today and in the future. Students begin to understand the connection, and they look at the world around them in new ways," said Reichman.
Trilogy Publications LLC is a partnership of communicators whose mission is to encourage students to seek rewarding career paths and introduce them to fields they might otherwise overlook. "Those Amazing Builders" is the third in Trilogy's "Those Amazing…" series, which includes "Those Amazing Scientists" and "Those Amazing Engineers." The series was written by Charlotte Forbes, an award-winning author with a 25-year track record of business writing on topics that include architecture, sustainable development, engineering and construction. Her fiction is included in the "O. Henry Awards" (1999), and her first novel, "The Good Works of Ayela Linde" was recognized in "Kirkus Review's Best of 2006." Other members of the Trilogy partnership include Mark Lo Bello, President and Creative Director, DSE and Dean Pillion, Associate Creative Director, Merck Creative Services, both of whom have produced creative materials for major engineering and construction firms, as well as for the nation's largest corporations. Trilogy partners Rose Reichman, President of Reichman Frankle Inc. (RFI), an award-winning marketing and public relations firm, and Rena Frankle, a former principal of RFI, have applied their expertise to develop marketing and informational materials and programs for the engineering and construction industry.