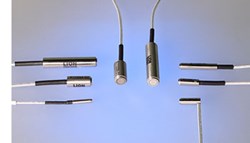 St. Paul, MN (PRWEB) January 26, 2014
Capacitive displacement sensors from Lion Precision have an increased temperature range in which they can hold temperature drift specifications. The micro-displacement sensors typically have a thermal drift specification of ±0.04% of full scale. That specification has now been expanded to include the entire rating operating range of 4°C 50°C. "The probes are capable of holding the drift specification at much colder temperatures," says Ray Herbst, chief design engineer. "Frost or condensation forming on the probe sensing surface would cause inaccurate readings, so we don't specify below that temperature." Most applications using the probes at these colder temperatures are in dry environments or vacuum, meaning condensation and frost are not a problem; the probes exhibit these same stable thermal properties in these colder temperatures.
The company's products have evolved over the years as new techniques and materials have become available. The probes are now constructed of materials with matched thermal expansion rates and internal electronics have been chosen to minimize thermal drift. Moreover, the probes have been designed such that what thermal drift remains is linear with temperature. This allows circuitry in the electronic amplifiers to compensate for what thermal drift remains from the mechanical and electrical structures in the probes.
Lion Precision noncontact capacitive displacement sensors have been used in vacuum and extreme cold in many applications, even operating while submerged in liquid nitrogen. While these extremes of temperature require special consideration during the production and calibration process, the company specializes in unique, custom applications and sensor design.
Capacitive sensors from Lion Precision are highly precise instruments capable of displacement measurements less than one nanometer. At this level of precision, every mechanical variable must be accounted for. According to Mark Kretschmar, Lion Precision communication manager, "Thermal expansion of the measured part and the fixtures and brackets that locate the probes in position present challenges to engineers, technicians and designers. Providing sensors with very small thermal drift makes this difficult measurement task just that much easier."
In 1958, Lion Precision was the first company to provide capacitive noncontact displacement sensors to industry. The company has expanded its product offering to include eddy-current displacement sensors and some application specific sensors for the machine tool, packaging and PCB industries. Lion Precision is focused on assisting users in sensor implementation by providing technical knowledge resources, expert guidance and optimized systems including custom designs.
For more information, contact Lion Precision:
Lion Precision
563 Shoreview Park Road
St. Paul, MN 55126 USA
651-484-6544
http://www.lionprecision.com
info(at)lionprecision(dot)com