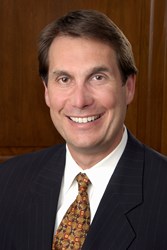 Houston, Texas (PRWEB) January 27, 2014
The Construction Law Journal has selected Marshall Rosenberg to serve on the publication's Editorial Board. The Construction Law Journal has been published jointly by The Texas Bar Construction Law Section and the South Texas College of Law since 2002. The Journal serves the construction law community with rich educational information on legal developments in the construction industry throughout Texas.
Marshall is a partner at Hartline Dacus Barger Dreyer LLP in the firm's Houston office. He has nearly 25 years of experience practicing law and holds an AV-Preeminent peer rating through Martindale-Hubbell. Marshall has a state-wide practice that includes construction defect disputes, and he also handles professional liability actions involving architects, engineers, surveyors, and real estate professionals. In addition, he provides consulting services and contract review for a variety of design professionals, contractors, builders, and developers.
Marshall has completed the required training and testing to obtain the designation of "Certified Graduate Builder" by the National Association of Home Builders and is the only known full-time practicing attorney in the United States to obtain such recognition. He was elected in 2012 to serve on the Board of Directors of the Foundation Performance Association, a nonprofit professional organization dedicated to advancing the knowledge, performance, and standards of engineering, construction, and repairs related to foundations, soil and structures. Marshall has written and lectured for various continuing legal-education programs, and he is an active participant in construction industry organizations and programs. He regularly attends building industry classes and has successfully completed both on-site and classroom training involving commercial and residential construction.
Hartline Dacus Barger Dreyer LLP is a Texas-based law firm specializing in civil litigation and trials, with offices in Dallas, Corpus Christi and Houston. The firm's attorneys pride themselves on providing uncompromising excellence to their clients in a variety of areas, including products liability, commercial litigation, class action and multidistrict litigation, intellectual property, personal-injury defense, premises liability, labor and employment, insurance coverage, healthcare, construction, and dealer/franchise litigation. For more information about HDBD, visit http://www.hdbdlaw.com.
SOURCE: Hartline Dacus Barger Dreyer LLP