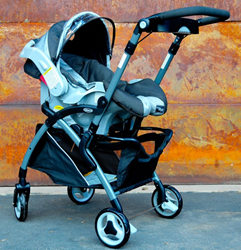 BabyGearLab put the top frame strollers through an extensive 3-month test.
Cheyenne, WY (PRWEB) January 27, 2014
Baby product review site BabyGearLab.com announced the results of its 2014 Best Car Seat Frame Stroller Review awards today. BabyGearLab Editors put the top frame strollers through an extensive 3-month testing process to determine the winners. All the products were evaluated side-by-side, and with tested with a variety of car seats, in both lab settings and real-world hands-on use. The following performance criteria were analyzed: maneuverability, ease-of-use, safety, east of attaching the car seat, folded size, and weight. View the complete details of BabyGearLab's Top Car Seat Stroller Review on BabyGearLab.com.
The winners are listed below:
Editors' Choice Award went to Graco SnugRider. "The Graco SnugRider stood out for ease-of-use, and maneuverability compared to competing products. It was one of the most compact when folded, and lightweight, making it easy to get in and out of a car," said BabyGearLab's founder, board certified pediatrician Dr. Juliet Spurrier. "And it provided a very simple and secure attachment to the car seat, most especially when used with Graco Click-Connect style infant seats."
The Safety 1st Clic-It earned the Best Value Award for its combination of high performance scores, and an economic price. "The Safety 1st Clic-It sells for an attractive street price of about $60, yet it scored near the top of our ratings. It offers an easy connection to Safety 1st, Cosco, and Eddie Bauer brand car seats, a large storage basket, and a unique sun cover to protect baby," Dr. Spurrier commented.
BabyGearLab's Editors engaged in a detailed testing process to assess performance. This was split into two parts: hands-on field tests with each product, and a series of controlled lab tests to look at specific capabilities. For example, each product was used extensively in real-world environments like crowded supermarkets, busy sidewalks, cafes, elevators, curbs, steps, and other day-to-day venues. Products were repeatedly folded/unfolded, placed into trunks of cars, and tested with multiple brands of infant car seats. Lab tests augmented field testing to provide a controlled and consistent method for looking at specific aspects of performance in an apples-to-apples manner. For example, each product was tested for propensity to tip-over forward, sideways, and back-tip. Brakes were evaluated, and potential risks of bottles falling out of shallow cup holders were examined. In addition, a controlled obstacle course over a mix of paved and non-paved surfaces was used to measure differences in maneuverability with one-hand and two-hand operation.
BabyGearLab has also released an informative buying advice article titled, "How to Choose the Best Car Seat Stroller." This consumer guide includes an explanation of the options to using car seats with strollers, including both full-size and frame strollers, and helpful tips for selecting the right product to meet differing needs.
About BabyGearLab LLC
BabyGearLab's mission is to help new parents make better decisions on baby products by creating clarity in the entire baby-product buying-decision process. Founded in 2012 by mother-of-two and Board-certified pediatrician Juliet Spurrier, MD, BabyGearLab is committed to producing the world's highest quality reviews based on extensive testing, buying advice guides, and heath and safety articles in relation to baby products most often used during the first year of a baby's life.