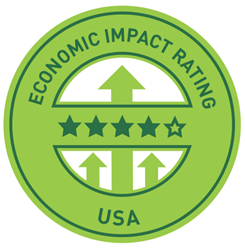 We noticed that there was no way to quantify how much of a product was 'Made in America'.
Manchester, New Hampshire (PRWEB) January 24, 2014
The Economic Information Exchange Company today announced the launch of their website detailing their Economic Impact Rating.
The third-party verification system rates individual products on their economic imapact to an area, looking at several variables including material origins, manufacturing, distribution, overhead and more. The site provides information to consumers and businesses on how and why the Economic Impact Rating can benefit both parties.
A study by the Boston Consulting Group showed that 80% of 5,000 consumers surveyed are willing to pay more for products made in America. "We noticed that there was no way for consumers to tell just how made 'Made in America' really is-- and in some cases, if it was Made in America at all," says Anthony Comito, creator of the Economic Impact Rating. "The Economic Impact Rating provides verifiable information on the real economic impact of a product, and puts a stop to false 'Made in USA' claims."
How the Economic Impact Rating Works
The Economic Information Exchange Company is granted access to accounting information for a product. The rating is based on a "origin costing" process that traces factors such as material used to create a product, the labor involved and other variables. The rating takes a large set of data and findings and transfers it onto a 5-star scale that consumers can use in the store aisle or online to find and support products that support them. The more stars, the more money captured in an area. They currently offer ratings for several geographic areas including National, Regional, State-wide and select cities.
"Consumers can support those products with a high economic impact, creating jobs and growth in their area," adds Comito. "The extra cost or investment needed by a company to make a larger economic impact does not become am extra cost, but a profitable investment in both the company and country's future".
***
The Economic Impact Rating is a third-party verification system that analyzes individual product's economic impact on the economy. The rating provides information for consumers to understand how much of a product is captured in their economy through jobs, taxes and several other variables. For more information, visit the Economic Impact Rating informational website at http://www.economicimpactrating.com. Follow them on Twitter at twitter.com/EconImpact or Facebook at facebook.com/EconImpact.