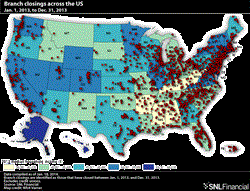 Charlottesville, VA (PRWEB) January 27, 2014
In a report released today by SNL Financial, banks collectively reduced the nation's branch total by 1,487 locations in 2013. As an example of this trends, in an effort to offset sluggish revenue trends amid a slow-growth environment, KeyCorp in mid-2012 launched a companywide efficiency initiative aimed at carving out costs and boosting the bank's bottom line.
According to SNL's report, at the heart of the effort was branch consolidation. Between June 2012 and the end of 2013, the Cleveland-based company consolidated 81 branch locations, or approximately 8% of its franchise. Over the past 18 months, Key implemented annualized cost savings of $241 million.
"Efficiency and positive operating leverage are becoming part of the fabric of Key," Chairman, President and CEO Beth Mooney told analysts this month after posting fourth-quarter 2013 net income attributable to common shareholders of $224 million, or 25 cents per share. That was up from $197 million, or 21 cents per share, a year earlier.
Key is hardly alone. Banks collectively reduced the U.S. branch total by 1,487 locations in 2013, an SNL analysis found.
Bank of America Corp., PNC Financial Services Group Inc. and SunTrust Banks Inc. closed even more branches than Key during 2013. Capital One Financial Corp., Hancock Holding Co. and Citigroup Inc. were among others actively trimming branch counts, as lenders of all sizes grapple with weak revenue growth and heavy compliance costs that are motivating them to reduce the fixed expenses tied to large branch networks, SNL's report highlighted.
Many companies, in addition to shuttering or selling off branches, are working to downsize their branches or are at least considering the possibility.
To read the full report, visit http://www.snl.com/InteractiveX/Article.aspx?cdid=A-26626605-12589.