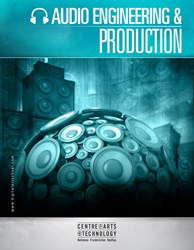 Fredericton, New Brunswick (PRWEB) January 25, 2014
Canadian Digital Art School - The Centre for Arts and Technology Fredericton is pleased to announce that we are once again a part of the Shivering Songs Festival running from January 23rd to 26th at various venues throughout the downtown Fredericton core.
Lead Instructor for the Audio Engineering & Production program at the Centre for Arts and Technology Fredericton and Studio Manager Brad Perry will be front of house mix engineer at the main venue - Wilmot United Church. Performers that Brad will be mixing for include: Ron Sexsmith w/ Rose Cousins; Kathleen Edwards w/John K. Samson & Christine Fellows; as well as the songwriters' circle "Songwriters & Storytellers". Brad Perry has been actively involved in the festival since its inception in 2011 and has always made it a point to engage senior audio students in this festival.
Senior Audio Engineering students will be assisting in sound reinforcement set up at all venues during the festival. In addition, Audio graduate and current Lab Assistant Dylan Ward will be providing front of house mixing at the Capital Complex.
Centre for Arts and Technology Fredericton offers 18 accredited programs and is among the premiere audio engineering schools, film schools, photography schools, animation schools, event management schools, and interior design schools in Canada.
Currently, Greater Fredericton is home to more than 50% of New Brunswick's information technology industry. With so many opportunities on our doorstep, our students thrive at this close-knit digital art school.
For more information regarding the Shivering Songs Festival please visit their website at http://www.shiveringsongs.com/ and for more information about the Centre for Arts and Technology Fredericton please click here.