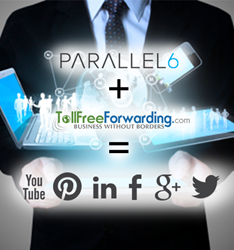 In addition to being able to offer our professional insight and analytics for their social media strategy, we are able to collaborate with them on executing the most cutting-edge social and digital solutions for their business
San Diego, Calif. (PRWEB) January 27, 2014
Parallel 6, a multi-channel mobile technology company and the creator of the mobile enterprise platform, Captive Reach, adds TollFreeForwarding.com to its roster of social media and digital marketing clients. While working with TollFreeForwarding.com, Parallel 6 will launch a social media strategy across multiple online channels to enhance customer engagement and experience.
"It is a privilege to work with a well-established, international telecommunications provider such as TollFreeForwarding.com. They have a highly advanced marketing team that is already well versed in the services that we offer. In addition to being able to offer our professional insight and analytics for their social media strategy, we are able to collaborate with them on executing the most cutting-edge social and digital solutions for their business," said Parallel 6 VP of Operations Adam Blejski.
The customized social media campaign for TollFreeForwarding.com includes heavy activity, growth and engagement on social media channels such as Facebook, Linkedin, Twitter and Google+. Parallel 6 will work in conjunction with TollFreeForwarding.com to launch "Make a Connection and Win Contest" during TollFreeForwarding.com's appearance at ITEXPO East from Jan. 28 to Jan. 31. TollFreeForwarding.com will be at booth #900 where there will be live tweeting, posting to Instagram and Facebook, and the opportunity to win one of 100 Google Chromecast Streaming Media Players. To learn more and to participate in the contest, visit TollFreeForwarding.com's contest rules page, http://bit.ly/TFFContestRules.
"We're very excited about ITEXPO and the opportunity to connect with businesses looking to expand their global presence and international telecommunications capabilities. Through our partnership with Parallel 6, we'll also be actively engaging on social media before, during and after the event to augment the experience of ITEXPO attendees and share some of the event experience with our online audience," said TollFreeForwarding.com VP of Marketing Bill Ellis.
Parallel 6 works with a wide array of businesses within various industries nationwide. For more information about the digital and social media services offered by Parallel 6, contact Adam Blejski at 619-269-1063 or email ablejski(at)parallel6(dot)com.
###
About Parallel 6:
Parallel 6, a creative enterprise mobile technology company, is the creator of Captive Reach, an all-encompassing enterprise mobile platform. Captive Reach influences consumer behavior, enhances brand recognition and builds strong client-customer relationships. Parallel 6 also offers a suite of managed services such as social media and campaign management, SEO, design, and website creation. The company serves a wide array of B2B and B2C companies including retailers, finance, gaming, e-commerce, hospitality, daily-deal companies, restaurants and professional service firms around the globe. The firm is headquartered in San Diego with offices in Mexico, Ukraine and China. For more information, visit http://www.parallel6.com.
About TollFreeForwarding.com:
Connecting millions of international calls per month, TollFreeForwarding.com is the number one provider of international virtual phone numbers and international call forwarding services in the world. Founded in 2002, TollFreeForwarding.com is a technology-driven, international telecommunications provider based in Los Angeles, California. TollFreeForwarding.com leverages best in class technology to empower businesses with state-of-the-art capabilities and services.