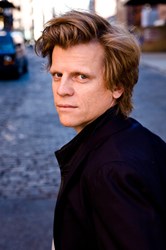 Toledo, OH (PRWEB) January 30, 2014
The Toledo Symphony is proud to present an unique concert experience in collaboration with the University of Toledo. As part of their annual Arts and Humanities festival, the two organizations will present Peter Shaffer's play Amadeus with live musical accompaniment by the Toledo Symphony. Cornel Gabara of the University of Toledo will direct this production.
While actors Oliver Henzler (Wolfgang Amadeus Mozart) and Qarie Marshall (Antonio Salieri) portray legendary rivals, while the Toledo Symphony plays some of Mozart's most iconic works of art. Selections include the Kyrie and Lacrimosa from the Requiem Mass, the famous slow movement from the Piano Concerto No. 23, and sung passages from The Marriage of Figaro and The Magic Flute.
The production also features five acclaimed local singers: Jennifer Goode Cooper (soprano), Kristin Eder (mezzo-soprano), Don Bernardini (tenor), Timothy Bruno (bass-baritone) and Sasha Noori (tenor).
The concerts take place two nights only--February 7th and 8th at 8PM at the Toledo Museum of Art Peristyle.
Tickets start at only $22, and are available at the Toledo Symphony box office at 419-246-8000 or at ToledoSymphony.com.
Cast
Oliver Henzler*—Wolfgang Amadeus Mozart
Qarie Marshall*—Antonio Salieri
Starr Chellsea Cutino—Constanze Weber
Benjamin Pryor—Emeror Joseph II and Venticello 2
Dave DeChristopher*—Baron Gottfried Van Swieten
Megan Aherne—Count Franz Orsini-Rosenberg and Venticello 1
Production Team
Cornel Gabara*—Director, Scenic Designer
Timothy Lake—Stage Manager
Jakyung Seo—Lighting Designer
James Hill—Scenic and Sound Designer
Daniel Thobias—Costume Designer
Ashley Stephens—Assistant Costume Designer
Jamie Wilson—Stitcher
*Actors Equity Association