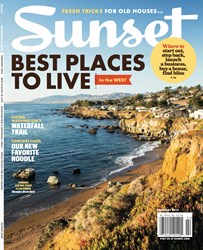 Menlo Park (PRWEB) January 27, 2014
Introducing Sunset magazine's list of the "Best Places to Live 2014" (p. 47). In the February issue, the magazine's expert editors reveal their picks for the West's top neighborhoods, towns, and cities in six categories: Best Place to Launch a Career, Best Place to Postpone a Career, Best Cosmopolitan Suburb, Best Urban Neighborhood, Best Place to Re-Boot Your Life and Career, and Best Post-Career Locale.
The winners for each category are:

The categories were created based on results from questions about where Westerners would want to live at different points in their lives, from recent college grads, to young parents and empty nesters. In addition to declaring editors' favorites, Sunset invited readers to vote for their own favorite places to live and work.
The roundup of "Best Places to Live" also features personal stories of the people who live in each of the winning cities, sharing what each day is like and how they are chasing their dreams while living in San Francisco, Honolulu, Issaquah, Sugar House, Bozeman, or Flagstaff. Various stats are also included for each city, such as: population, walkability score, median home price, median salary, and average commute time to nearest big city, to name a few. To top it all off, the editors pose three essential questions to consider before making the move to a Best Place to Live of 2014.
Coming in just shy of first place are runners-up and Reader Picks:

Best Place to Launch a Career – Runners-Up: Santa Monica, CA; Las Vegas, NV; Reader Pick: Seattle, WA
Best Place to Postpone a Career – Runners-Up: Carbondale, CO; Kings Beach, CA; Reader Pick: Walla Walla, WA
Best Cosmopolitan Suburb – Runners-Up: Alameda, CA; Louisville, CO; Reader Pick: South Pasadena, CA
Best Urban Neighborhood – Runners-Up: Highlands, Denver, CO; North End, Boise ID; Reader Pick: Richmond, Portland OR
Best Place to Re-Boot Your Life and Career – Runners-Up: Chico, CA, Bellingham, WA; Reader Pick: Bend, OR
Best Place for Post-Career Freedom – Runners-Up: Corvallis, OR; Durango, CO; Reader Pick: Cambria, CA.
Read the full story online at http://www.sunset.com to find out the best places in the West to live and work for every age.
About Sunset
Sunset is the leading lifestyle brand in the West. Through magazines and books, events and experiences, and digital and social media, Sunset covers the West's best flavors, destinations, design trends, and innovations. Sunset engages and inspires an audience of over five million educated, active and affluent consumers every month through its five regional print editions—Pacific Northwest, Northern California, Southern California, Southwest and Mountain—as well as via all tablet devices and its website. In addition to its print and digital publication, Sunset showcases the region's unique lifestyle and noteworthy destinations through its flagship events, established home programs, licensing partnerships, books and International Wine Competition. Sunset is part of the Time Inc. Lifestyle Group.