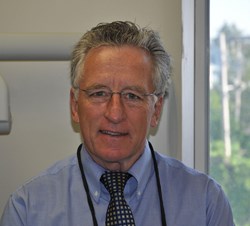 Braintree, MA (PRWEB) January 24, 2014
Dr. Thomas Mone, an experienced Braintree, MA periodontist, offers a solution for periodontal disease patients who are searching for a convenient gum surgery alternative as part of their New Year Resolution. The Laser Assisted New Attachment Procedure (LANAP) is a revolutionary process that allows periodontists to quickly remove diseased gum tissue from patients without causing excessive pain or bleeding. Because the procedure is fairly non-invasive when compared with some traditional gum disease removal methods, patients report that the recovery period is much shorter and less painful.
LANAP is a gum surgery alternative that is cleared by the FDA and involves a highly precise and effective laser that targets the bacteria in diseased gum tissue. As a result of its precision, healthy gum tissue is not accidentally targeted and removed, which makes the procedure highly effective. LANAP can also be completed faster than traditional methods because of its high levels of accuracy and efficiency.
Patients who have avoided gum surgery in the past can turn to Dr. Mone when they are searching for a Braintree, MA periodontist who is highly experienced, trained, and certified in utilizing LANAP to remove unhealthy gum tissue in patients with periodontal disease.
As a leading Braintree, MA periodontist, Dr. Mone recommends that patients with periodontal disease call his office and set up an appointment to determine whether or not they are good candidates for LANAP. Almost all patients with gum disease who are looking for a gum surgery alternative that is not highly invasive and does not require extensive recovery time will qualify for LANAP. Patients can find out more about the procedure by calling Dr. Mone's office and scheduling an appointment.
About The Doctor
Mone Periodontics is a periodontal practice offering personalized dental care for patients in Braintree, MA. The leading periodontist at the practice, Dr. Thomas Mone, graduated from the University of Massachusetts with a bachelor's degree, and then went on to attend the University Of Pennsylvania School Of Dental Medicine and graduated at the top of his class. He completed his periodontal training at Boston University Goldman School of Graduate Dentistry. Dr. Mone is part of one percent of dental professionals providing the LANAP FDA cleared laser procedure for gum disease and periodontal treatment. To learn more about Mone Periodontics and their dental services visit their website at http://www.braintreeperio.com and call (781) 348-9925.