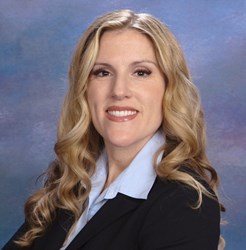 Jillair has been recognized at ATF headquarters in Washington D.C. and throughout the United States for her balanced approach as an independent regulator and advisor to Chief Executive Officers, Corporate General Counsel and Retail Store Owners
Hartford, CT (PRWEB) January 27, 2014
Seasoned Justice Department Executive Jillair Kubish has joined Orchid Advisors to lead its Regulatory Compliance practice, the company announces today. Kubish has more than a decade of field executive experience working with the Bureau of Alcohol, Tobacco, Firearms, and Explosives (ATF). Key ATF roles include that of New England Industry Operations leader and a detail as Director, Industry Operations of the New Orleans Field Division.
"Jillair Kubish's direct field experience in performing large, complex inspections, investigations, and training of some of the largest manufacturers, importers, wholesalers and dealers in both the Firearm and Explosive Industries, is exactly the type of hands-on, deep knowledge that our clients expect from our firm," says Jon Rydberg, CEO of Orchid Advisors. "When you pair Jillair's intimate exposure with Federal and State regulation, with Orchid's existing business and technical transformational services, our clients will be able make tremendous strides in minimizing their compliance risk exposure."
Kubish has worked with such firms as Auto-Ordnance, Camfour, Colt's Manufacturing Company LLC, Colt Defense, Century Arms International, Marlin Firearms, O.F. Mossberg & Sons, Kahr Arms, Sturm Ruger & Co. Inc., Smith & Wesson, Savage Arms, and many others. Kubish regularly served as a liaison between the Industry and ATF headquarters in Washington DC for numerous years. She was repeatedly called upon to speak to the Industry at ATF/ NSSF conferences and seminars such as the SHOT Show and the annual Manufacturers Conference in Washington, DC.
Kubish has led or participated in numerous ATF headquarters projects and initiatives including the Industry Operations Investigator Competency Model Project, the Industry Operations Operating Plan, and the deployment of an Online Training Video for Federal Firearms Licensees. She also has been the IOI Class Supervisor at the Federal Law Enforcement Training Center, Glynco, Georgia. Throughout her career, Mrs. Kubish has worked closely with and trained State and Local Regulators and Law Enforcement Officers in the areas she covered.
"Jillair has been recognized at ATF headquarters in Washington D.C. and throughout the United States for her balanced approach as an independent regulator and advisor to Chief Executive Officers, Corporate General Counsel and Retail Store Owners," says Rydberg. "Under Orchid, Jillair can do much more than uncover and document compliance issues…she can be a part of solving the underlying root causes so they don't happen again."
As President, Regulatory Compliance, Kubish will be responsible for working with Orchid Advisors' client base to transform their compliance environment to add efficiency, expand visibility, and drive accountability – with the net effect of maximizing compliance by the firms.
About Orchid Advisors – Transforming the Compliance EcosystemTM
Orchid Advisors is a strategic management consultancy focused on transforming the worlds of audit and compliance in selected industries. Our initial entry market is the Firearms Industry where Orchid counts among its customers the top firearms manufacturers in the world. Orchid clients hire the firm to help reinvent business processes, implement technology solutions to support that change, and strategically plan and monitor resulting sustainable audit and compliance cultures in their organization. Orchid Advisors bring the depth and breadth of Big Four consulting with the innovation, thought leadership, and economies of a boutique analyst firm. For more information, see http://www.orchidadvisors.com.
For more information, press only:
Kathleen Milazzo Swahn
KMilazzoSwahn(at)OrchidAdvisors.com
1-855-ORCHID-0