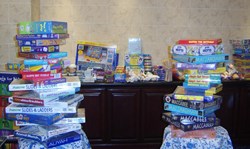 For Jewish teachers, shopping at Oy Toys is like going to the candy store!
Roswell, GA (PRWEB) January 26, 2014
Oy Toys will exhibit its newest Jewish books for the national conference of the Jewish Educators Assembly that will take place at the Westin Hotel/Perimeter in Atlanta, GA, from Sunday, January 26 through Wednesday, January 29. The store is located at 1150 Grimes Bridge Road, Suite 300, Roswell, GA 30075.
Oy Toys is a leading Jewish toy company that sells products online and at its Roswell store. The company was established in 2004 and specializes in Jewish toys and gifts. Its web site is http://www.oytoys.com The parent company, ATSR Enterprises, originally known as And Thou Shalt Read, specializes in books, toys, and other materials for the Jewish classroom. Learn more at its web site: http://www.AndThouShaltRead.com .
In addition to books, a wide variety of educational support materials including posters, music, videos will be available. New this year will be a display of limited edition prints on Biblically inspired themes from RaeAn Designs that have recently been added to the Oy Toys line. These prints feature the little-known but ancient technique of Hebrew micrography. Also available will be a collection of hand-painted tallits by local artist Meg Fisher. Pieces by both artists will be available for order or sale at the exhibit.
RuthE Levy, owner of Oy Toys, explained that this will be a unique opportunity for Jewish educators to access one of the largest collections of Jewish educational materials in the country. With over 9000 line items in inventory, teachers will have the opportunity to purchase posters, stickers, stamps and many other items not commonly found elsewhere.
"We're excited about being able to offer our collection of materials that will enrich the Jewish classroom and enhance learning for Jewish children all over the country," Levy said.
The Jewish Educators Assembly is the national organization for educators from the Conservative Movement. The conference includes educational training sessions and will be attended by over 200 rabbis, cantors, and teachers from around the country. Oy Toys/And Thou Shalt Read will be one of the top exhibitors for the conference.
For more information about the exhibit, phone (770) 993-5432.