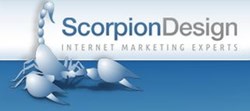 Valencia,CA (PRWEB) January 24, 2014
As one of the nation's most competitive cities for corporate pursuit, Los Angeles is not always the easiest place to build a lasting, growing private business. In this past year of 2013, the second largest city in the United States, along with the rest of California, saw an especially difficult year for private corporations.
In the midst of the hostile economic climate, few private operations have managed not only to survive but to successfully grow. The Los Angeles Business Journal compiles a list of the 100 Fastest Growing Private Companies and this year, Scorpion Design, LLC was given the honor of being included on the list.
Scorpion Design is a rapidly growing leader in the competitive world of Internet marketing. Established at the turn of the century, Scorpion has quickly proven itself an unmatched authority in what many consider as the future of marketing altogether. Providing clients with comprehensive website services, Scorpion's team is well-established in both web design and marketing, giving companies a presence on the web.
The company offers a comprehensive approach to online marketing complete with stunning website designs, professional content writing, PPC management, social networking, marketing, and even video production. Scorpion provides award-winning service to businesses large and small in a variety of industries including law, healthcare and home services. Founder and CEO Rustin Kretz runs his company with the philosophy of hard work, innovative strategies, and unmatched quality. The company has grown in number, service, and influence, having caught on and grown in an industry many others are still struggling to understand.
Scorpion's value has been recognized by some of the most prestigious entities in the corporate field, including this recent honor as one of the 100 Fastest Growing Private Companies per the Los Angeles Business Journal. The company's growth is attributed to its dissatisfaction with mediocrity in both quality and quantity of delivered product, suggesting that this type of growth is to continue for years to come.
Scorpion Design, LLC is an Internet marketing company offering website design, development, and marketing services to clients in a wide range of industries. The company provides services including original design, content development, pay per click management, social networking, and more. Its marketing services aim to give consumers access to the services they need and hope to connect them with Scorpion's clients through a variety of marketing strategies. To learn more, please visit them online today at http://www.scorpiondesign.com.