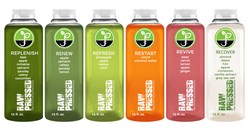 All Raw Pressed production takes place in the Hudson Valley – from sourcing the locally grown produce to hand-pressing each bottle of juice
Hudson Valley, New York (PRWEB) January 28, 2014
Raw Pressed, a premium raw & organic juice company, is debuting a line of juices representing a new way of looking at juicing. Raw Pressed is more than just a juice company; they are your new daily ritual born out of a passion for nutritious, non-genetically modified, fresh organic produce. Every bottle is locally crafted using 100% organic, non-GMO fruits and vegetables without added sugar, fillers, flavors, or pasteurization. Raw Pressed is proud to reveal their tasteful & nutritious juices to the local community. Raw Pressed offers subscription-based deliveries, as well as cleanse kits for local delivery throughout Dutchess County. Raw Pressed will start juicing in March of this year.
Raw Pressed is committed to providing the best tasting, fresh, cold- pressed juice that is safe, healthy, vegan, GMO-free and never heated. Raw Pressed uses a commercial cold-press juicer that keeps the integrity of the produce completely intact, enabling your body to absorb the nutrients in their purest form. Over the course of the past year juicing as an industry has grown immensely. In Los Angles alone there are 50+ Cold Press Juiceries. Why juicing has attained such a widespread appeal is fairly easy to grasp: Unlike standard juices, which are heat-pasteurized, the cold-pressed method of juice extraction preserves more nutrients and enzymes of whole fruits and vegetables. Gulp down 16 ounces of juice, and bam—you've gotten your daily dose of fruits and vegetables. Better health, in bottle form.
Founders Kyle Michaud, Clarissa Lynn & Chad Schieler all share an appreciation for local farmers, and a passion for raw, organic nutrition. Deeply rooted in its community, Raw Pressed operates with a strong sense of social responsibility and environmental sustainability. "Our goal is to minimize our carbon footprint," said Kyle Michaud. "Because we strive to utilize local resources whenever possible, we support area farmers through our buying programs."
"Born and raised in Dutchess County, we are thrilled to bring Raw Pressed to our friends and neighbors," said Kyle Michaud, Co-Founder. "The initial response from the community has been terrific."
All Raw Pressed production takes place in the Hudson Valley – from sourcing the locally grown produce to hand-pressing each bottle of juice. The Raw Pressed team sees the entire process through-from raw ingredients to the perfected balance of flavors in each bottle. Their staff uses state-of-the-art juicing equipment, which allows them to produce fresh, convenient juice options for the public without sacrificing quality or consistency.
"While there are a lot of juices available today, Raw Pressed is really something different, something never seen before," added Kyle Michaud. "We aim to be the local brand that brings to light the benefits of consuming locally grown produce."
Raw Pressed will offer 6 deliciously fresh & unique recipes to satisfy a wide range of tastes. Raw Pressed even offers a protein blend 'Recover', which pairs perfect with your post workout shake or snack. Each Raw Pressed juice is created with locally sourced Dutchess County produce and ranges in price from $10 to $12 per bottle. Consider Raw Pressed your modern day milkman! Visit RawPressedJuces.com to follow us!