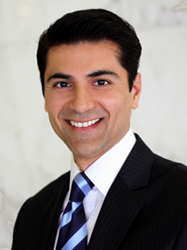 If you open the kneecap up and look inside, the meniscus is this disc that sits inside there.
Beverly Hills, CA (PRWEB) February 05, 2014
Sonu Ahluwalia, MD, is a board-certified orthopedic surgeon at La Peer Health Systems in Los Angeles. In his weekly segment on Good Day LA this Monday, August 12, 2013, Dr. Ahluwalia spoke with weather anchor Maria Quiban about her meniscus surgery. Dr. Ahluwalia performed the procedure on Quiban's left knee to repair her torn meniscus.
This procedure was Quiban's second meniscus surgery performed by Dr. Ahluwalia. Last year, she underwent a meniscus repair on her right knee, and this year she needed the same surgery on her left knee.
"If you open the kneecap up and look inside, the meniscus is this disc that sits inside there," said Dr. Ahluwalia. "It's a shock absorber. [Maria's] meniscus was torn inside there. It was actually flipped all the way over, and that's why it was hurting and clicking."
What differentiates this surgery from Quiban's previous procedure was her use of "Google Glass," a sleek band worn above the eyes that contains a microscopic camera, in order to document the procedure from her perspective.
Quiban said that her right knee felt brand new after her first surgery, and just a few weeks after her recent left knee surgery, there is already a huge improvement. In addition to being able to return to work after just one week, Quiban only has two small bandages covering the two incision points. The reason for the miniscule incisions and quick recovery time is Dr. Ahluwalia's use of minimally invasive technology via arthroscopy, which allows a surgeon to see the inside of a joint through a camera.
"We put a little camera in one side and small instruments in the other side and trim the meniscus and that's it," said Dr. Ahluwalia about the arthroscopic procedure.
Sonu Ahluwalia, MD, is board-certified in orthopedic surgery and is a fellow of the American Association of Orthopaedic Surgeons. He is the Chief of Orthopedic Surgery at Cedars Sinai Medical Center and has privileges at Olympia Medical Center along with many ambulatory surgery centers, including La Peer.
Dr. Ahluwalia was born in New Delhi and grew up in India. He attended medical school at Mahatma Gandhi Memorial Medical College in India before moving to the United States in 1993. He received his medical training in Boston and New York until 2003 when he went into private practice in Beverly Hills. Dr. Ahluwalia has been featured on television programs such as Fox 11 Los Angeles, Oxygen, Extra, Time: Health & Family and the Today Show for his expertise in orthopedic surgery.
La Peer Health Systems is an outpatient surgery center in Beverly Hills, founded by doctors and focused on providing excellent patient care alongside the most cutting-edge medical treatments available. With 50 world-renowned physicians in 14 specialties, comprehensive medical treatment is offered that takes patients from consultation to diagnosis, treatment, surgery, and ultimately aftercare. The 14 medical departments include orthopedics & sports medicine, gastroenterology, head & neck surgery, colorectal & general surgery, podiatry, ophthalmology, pain management, plastics & reconstructive surgery, gynecology, spine surgery, interventional cardiology, bariatric surgery, thoracic surgery, and anesthesiology. Unlike large hospitals, La Peer's unique structure offers extremely personal care in a safe and controlled environment.
To learn more about La Peer Health Systems, visit http://www.lapeerhealth.com.