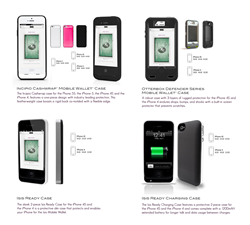 Enabling the Isis Mobile Wallet on iPhone is the next step in ensuring safer, more secure transactions, in the hands of all consumers nationwide. Bringing this service to iPhone users is a huge step in the right direction
Richardson, TX (PRWEB) January 27, 2014
DeviceFidelity, Inc., the world leader in plug and play mobile Near Field Communication (NFC) and security solutions, announced that starting today, its Isis Ready® NFC cases for iPhone are available online, and will be available in AT&T company owned retail locations starting on January 31.
DeviceFidelity's patented NFC technology and software is now available to all iPhone users through a choice of Isis Ready cases and the accompanying Isis Mobile Wallet® iOS app. The Isis Ready cases for iPhone include:

Incipio Cashwrap™ Mobile Wallet® Case – For iPhone 5 and 5S, available in Black/Pink/White
Isis Ready Charging Case – For iPhone 4 and 4S, offering NFC and backup battery
Isis Ready Case – For iPhone 4 and 4S users
Incipio Cashwrap Mobile Wallet Case – For iPhone 4 and 4S, available in black, white, and pink
Otterbox Defender Series Mobile Wallet® Case – For iPhone 4 and 4S, offering NFC and rugged protection
The Isis Mobile Wallet allows consumers to shop and pay using their mobile phone, by storing virtual versions of a customer's eligible credit or prepaid cards, as well as offers and loyalty cards from participating merchants. Using the Isis Mobile Wallet on an iPhone is simple. Select the Isis Ready NFC case, slide the iPhone in, download the Isis Mobile Wallet app from the App Store and tap your iPhone at hundreds of thousands of merchants nationwide for a quick and easy way to pay and save.
DeviceFidelity's iPhone platform is the world's first NFC platform to be fully certified for iOS devices by Isis and major payment brands including Visa, MasterCard, American Express and Discover.
"DeviceFidelity's technology and software will now make it possible for iPhone users to tap to pay with the Isis Mobile Wallet," said Amitaabh Malhotra, Chief Operating Officer and Co-Founder of DeviceFidelity, Inc. "Enabling the Isis Mobile Wallet on iPhone is the next step in ensuring safer, more secure transactions, in the hands of all consumers nationwide. Bringing this service to iPhone users is a huge step in the right direction."
The different case models can be purchased at AT&T company-owned stores and online at the following prices:
Isis Ready Case – Base mobile wallet only: $65
Isis Ready Charging Case – Extended battery for up to 50% more hours of use: $85
Incipio Cashwrap Black/Pink/White Mobile Wallet Case – Ultra light, multi colors: $69
Otterbox Defender Series Mobile Wallet Case – Ruggedized for added protection: $129
About DeviceFidelity
DeviceFidelity, Inc. develops plug-and-play technologies that empower a variety of institutions to deploy their services and applications on millions of mobile phones worldwide. Its patented secure microSD and NFC cases for iPhone solutions transform popular mobile phones into interactive contactless transaction devices. DeviceFidelity is a private corporation with headquarters in Richardson (Texas) and offices in San Mateo (California), and Aix-En-Provence (France). For more information visit devicefidelity.com, follow us on Twitter @devicefidelity and at facebook.com/DeviceFidelity.