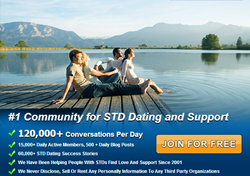 Los Angeles, California (PRWEB) January 26, 2014
The leading dating website for people who have been diagnosed with sexually transmitted diseases, PositiveSingles.com, surveyed 10,000 members on the frequency in which they update their profile section called "My Match/Friends."
The survey showed that 34 percent of people who are members on PositiveSingles.com update the "About My Match/Friends" section in their profile one time a month in an effort to find a partner. Another 23 percent of the site's members updated the section two or more times per month. The results of the survey indicate that members are becoming increasingly more aware of the type of partner/match that is right for them. As time goes on, and they are dating and chatting with more members, each member is able to further identify the type of person they are really looking for.
When people first start using a dating site, they want to find a partner that has certain characteristics that the person thinks he or she is looking for. They may be looking for someone who wants to have fun, or is humorous or who is interested in the same types of activity, such as cooking or exercising. But, as time goes on and they spend time chatting with members, they realize the type of people they were first looking for may not be the perfect match for them after all and they want to change their requirements. This leads them to update their "My Match/Friends" section in their profile to reflect more realistic expectations.
Often, the members come to the realization that the type of partner they thought they were looking for isn't really the kind of person they actually want. Coming to realize what they actually want and need for themselves is a learning process that comes with time and the realizations of who they themselves really are. People who are infected with STDs are deeply aware about the type of match or partner they are suitable for during the dating process on PositiveSingles.com.
About PositiveSingles.com
As the largest and most trusted online dating site for people living with Herpes, HPV, HIV / AIDS, Hepatitis, Chlamydia, Gonorrhea, Syphilis and other STDs, PositiveSingles.com is completely anonymous and cares about members' privacy more than other sites. You are not required to submit any information that you are not comfortable with on this site. Whatever you are looking for Herpes dating, HPV dating, HIV AIDS dating, or any other STD dating, PositiveSingles.com is the best place.