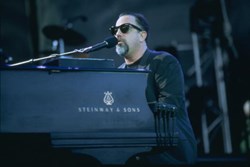 The Los Angeles-based ticket seller offers a 20% discount at check out with promo code "wicked".
New York, NY (PRWEB) January 24, 2014
Billy Joel tour concert goers can take advantage of Tickethunteronline.com's latest promotion. 100 $25 tickets are offered for Madison Square Garden and Hollywood bowl dates. Billy Joel will be coming to the following cities in the near future: New York, Los Angeles, Boston, Milwaukee, Houston, Minneapolis, Kansas City, Little Rock & Oklahoma City. The Los Angeles-based ticket seller offers a 20% discount at check out with promo code "wicked".
Billy Joel Hollywood Bowl tickets are selling fast but you can still reserve yours and see the spectacular performance of a living legend.
About Billy Joel:
Born on May 9, 1949, in New York, Billy Joel bounced back after a disappointing first album, Cold Spring Harbor (1971), with 1973's Piano Man, featuring hits like "Piano Man" and "Captain Jack." He went on to make successful albums like Streetlife Serenade (1974), The Stranger (1977) and 52nd Street (1978).
Other Broadway incentives include discount Book of Mormon tickets.
About TicketHunterOnline.com
TicketHunterOnline is the source for all of the entertainment needs.
TicketHunterOnline.com is a discount ticket sales and event promotions company. Producing over 200 live events each year, ticket hunter remains the premiere destination for live entertainment. Ticket Hunter partner's with the leading ticket distribution companies across the globe, allowing access to the top events at the best prices.
TicketHunterOnline.com is your online source to great seats at competitive prices for all sports and entertainment events in the US and Canada. We pride ourselves on delivering a full range of seating options at the lowest prices ever seen.
We understand that there are many options to choose from when buying tickets. This is why we separate ourselves from the competition by offering lower prices and outstanding customer service.
Discount Kinky Boots and Book of Mormon Tickets Pantages Theater