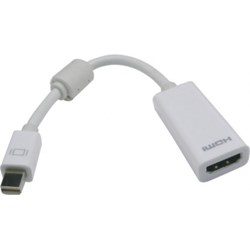 (PRWEB) January 30, 2014
Recently, Hiconn Electronics, the well-known adapter manufacturer and retailer, has launched a promotion of its wonderful Mini DisplayPort 1.2 to HDMI 1.4b Adapters. All of the company's brand new adapters are now offered at discounted rates, up to 26% off.
The Mini DisplayPort 1.2 to HDMI 1.4b Adapters from Hiconn Electronics are of top quality. A lot of them have a good market performance and have greatly stimulated the company's business growth in the past few months.
The followings are some details of the company's Mini DisplayPort 1.2 to HDMI 1.4b Adapters:
--Model No.: MDP-H3
--Approvals: CE-FCC-RoHs2-REACH
--Packing Info. : 20PCs/CTN
--Payment Terms: L/C-T/T-Western Union-Paypal
--Minimum Order Quantity: 50PCs
--Brief Description: Convert Mini DisplayPort to HDMI port.
--Target Markets: Africa-Asia-Eastern Europe-Northern Europe-Latin --America-North America-Oceania-Western & Southern Europe
--Type 2 Dual-Mode DP video adapter registers.
--Compliant to HDMI 1.4b specification up to 3.0Gbps
--Supports 4K x 2K and 1080p Stereo 3D HDMI formats
--Support deep sleep mode (suspend mode)
"We are proud to launch the special offer. I think it will make plenty of the international customers happy. Our Mini DisplayPort 1.2 to HDMI 1.4b Adapters are always among the most popular products in the market. The purpose of the promotion is to show our appreciation to new and old clients. If you want to seize the great opportunity to get what you need, please visit our website before February 24," the CEO of the company says.
About Hiconn Electronics
Hiconn Electronics (Shenzhen Hiconn Electronics Co. Ltd.) is devoted to designing and manufacturing a wide range of connection cables and customized cable assemblies, offering many HDMI cables, VGA cables, SATA cables, USB cables, 1394 cables, DVI cables, SCSI (Small Computer System Interface) and more. For more information, please visit http://www.hiconn.net/.
Contact Person: James Yin (Sales Director)
Company Name: Shenzhen Hiconn Electronics Co., Ltd.
Address: Shenghua Building., Xixiang Road., Baoan District, Shenzhen, Guangdong Province, China
Zip Code: 518102
Tel: +86-755-8109 8345
Fax:+86-755-2779 3497