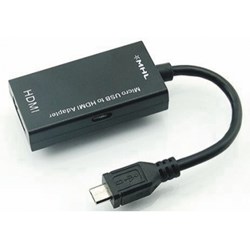 (PRWEB) February 01, 2014
Recently, Hiconn Electronics, a leading company of high end adapters, has released its new designs of MHL to HDMI Adapters with RCP. To top it all, the CEO of the company has announced that all these items are available at discounted prices, up to 30% off. Orders placed before February 19 will be eligible for the big discounts.
True enough, Hiconn Electronics is devoted to designing and manufacturing of high quality electronics products. All its items are offered with fast delivery. A large proportion of the company's devices are popular among worldwide distributors. The new range will certainly be no exception.
Here is some detailed information about the company's MHL to HDMI Adapters with RCP:
--Model No. : MHL-E1
--Approvals: CE-FCC-RoHs2-REACH
--Packing Info. : 20PCs/CTN
--Payment Terms: L/C-T/T-Western Union-Paypal
--Minimum Order Quantity: 50PCs
--Brief Description: MHL to HDMI Adapter
--Target Markets :Africa-Asia-Eastern Europe-Northern Europe-Latin America-North America-Oceania-Western & Southern Europe
--Small adapter for your mobile phone video/picture output to HDTVs/monitors /projectors.
--Compliant with HDMI 1.4b and MHL 2.0 specifications.
--Supports the resolution up to 720p 60 Hz, 1080p 30 Hz or 1080p 60Hz in --Packed Pixel Mode.
--Plug and Play
--Need additional 5V/500MA (or more current) Power input
--TV remote for wireless control of mobile phone (Need to have a CEC-enabled TV)
The CEO of the company states, "Now, our new adapters are available at discounted prices. In my opinion, our cheap MHL to HDMI Adapters will sell well in the market, because they are all of top quality. In 2014, we will provide more cost-effective products to hit the market."
About Hiconn Electronics
Hiconn Electronics (Shenzhen Hiconn Electronics Co. Ltd.) is devoted to designing and manufacturing a wide range of connection cables and customized cable assemblies, offering many HDMI cables, VGA cables, SATA cables, USB cables, 1394 cables, DVI cables, SCSI (Small Computer System Interface) and more. For more information, please visit http://www.hiconn.net/.
Contact Person: James Yin (Sales Director)
Company Name: Shenzhen Hiconn Electronics Co., Ltd.
Address: Shenghua Building., Xixiang Road., Baoan District, Shenzhen, Guangdong Province, China
Zip Code: 518102
Tel: +86-755-8109 8345
Fax:+86-755-2779 3497