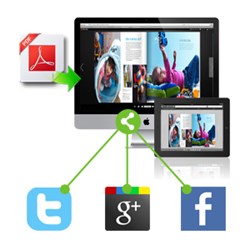 PDF to Page Turning Flip Book Creator and publisher for Mac
(PRWEB) January 26, 2014
1stFlip.com, the supplier of advanced PDF to flipbook creator software products, has announced the release of a professional flipbook maker - 1stFlip Flipbook Creator for Mac, with which users can easily make flash flipping books (magazines, brochures, catalogs, presentations, eBooks, etc.) with PDF files. Users can now create elegant flipbooks to promote goods and services, or make digital magazines, eBooks. 1stFlip Flipbook Creator comes with amazing features to make flipbooks more attractive. To see more information, please visit http://www.1stflip.com/.
The interface of 1stFlip Flipbook Creator for Mac is a 3-step wizard that lets the users get from the PDF file page selection (all pages or custom pages) to convert to local flipbooks in 3 formats: .html, .zip, .app or upload to the 1stFlip Online Library directly. From the Online Library, users can manage all upload flipbooks easily, including control who can read the flipbooks online.
This PDF to flipbook creator contains multiple pre-designed dynamic swf scenes and customizable templates. Besides, the background file option allows users to choose any local images or swf files as scene. Users can also add logos, background music, hard cover, bookmarks and multiple languages to the flipbook or change the appearance of toolbar, icons and text.
Users can upload flipbooks online, share via social networks or embed flipbooks to web page easily with the flipbook creator's publishing function. The flipbook creator can also create flipbooks compatible with mobile devices, making it is possible for readers to view flipbooks on iPad and mobile phones.
In addition, this flipbook creator for Mac allows users to track the traffic of online flipbooks with Google Analytics. Enter Google Analytics ID in the publishing flipbook, then user can monitor statistics form flipping book pages in the Google Analytics account.
The trial version of 1stFlip Flipbook Creator can be freely downloaded from the official website. http://www.1stflip.com/download.html. The installation package is thoroughly checked with the most reliable anti-virus tools and 100% safe to download.