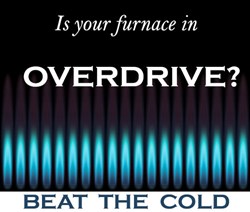 Changing the furnace filter can save homeowners money on their heating bills.
Huntley, Illinois (PRWEB) January 27, 2014
Brrrrrrr. It's cold outside! You may be in the clutches of the now infamous "polar vortex" with bone-chilling artic fronts pouring down from Canada. There's frost on the inside of your windows and the heater in your home seems to be running non-stop just to keep up with the demand. Your home furnace is in overdrive to keep you and your family warm. Every time your furnace runs, it draws air through your filters that protect the blower motor and cleanses the air. The more the air handler runs the greater the chance filters get clogged which impedes air flow. It takes the blower motor greater effort to pull air through the clogged air filters. This can cause pre-mature failure of your heating system. Changing the filter provides cleaner indoor air, increases the efficiency of your heater which ultimately can save you money on your heating bills.
It's easy to forget the filter as many home heating plants are located in the basement or closet, simply out of sight - -out of mind.
Changing the filter is a simple do-it-yourself chore. According to Bill Lea the president of FiltersAmerica.com, "Changing the furnace filter can save homeowners money on their heating bills." If you don't already know to change the filter, there are good how-to videos on You Tube. Well, you might ask, "How often should I change the filter?"
Not all furnace filters are the same. Common 1" thick fiberglass filters that you can almost see through need to be changed at least monthly, while the more efficient pleated filters usually last 3 months. Some homeowners have HEPA air cleaners in their heating system. These pleated filters can be 3"-6" think and can last 6 months or more. Even electronic air cleaners may have what is referred to as a pre-filter which needs to be washed or replaced depending upon the manufacturer recommendations.
You can shop for replacement filters from a variety of sources, the local hardware store, big box home stores or through online shopping which can save you a ton of time from going from store to store looking for the right size filter, and it even gets delivered to your doorstep.
One such online store is FiltersAmerica.com. Founded by Heating Ventilating and Air Conditioning experts, they have been in business for 13 years. Their entire focus is upon indoor air quality.
FiltersAmerica.com with its warehouse and distribution facility located in the Midwest, Huntley, Illinois, delivers all types of indoor air quality products such as high efficiency furnace and air conditioning filters, Hepa air cleaner filters and humidifier evaporator panels directly to the consumer. FiltersAmerica buys in high volume, passing down the savings to the consumer, including many hard-to-find air filters. If you have an odd size, they can even make special sizes just for you. FiltersAmerica.com was founded in 2001 by a team of HVAC experts with a goal to deliver the convenience high quality products to consumers doorsteps at factory direct pricing.
They put a combined 60 years of HVAC expertise into educating consumers on getting the best quality air in their home. Whether fighting allergens, mold, dust or simply looking to improve the overall quality of their home's air, FiltersAmerica.com shows homeowners the best way to improve indoor air quality. You can see what it's all about at http://www.FiltersAmerica.com.