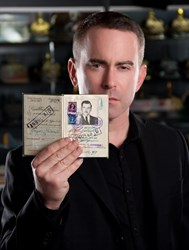 Solana Beach, Calif. (PRWEB) January 25, 2014
The Italian passport that enabled notorious Nazi war criminal Josef Mengele to evade justice following World War II has been discovered in Argentina by Craig Gottlieb, the military expert on History Channel's hit TV show Pawn Stars. This document was used by Mengele to escape to Argentina under the false name Helmuth Gregor in 1949. Pam Krager of the San Diego Union tribune broke the story today in an article here.
Known as the "Angel of Death" for his cruel and bizarre human medical experiments at the Nazi death camp of Auschwitz, Mengele used identical twins and pregnant women to further his ideas of so-called "Racial Hygiene." According to Gerald Posner, co-author of Mengele: The Complete Story, the SS doctor also personally selected over 70,000 inmates for the gas chambers. "Mengele masked tremendous sadism under the guise of medical science. This passport, which was his ticket to freedom, is an unexpected and significant historical discovery."
Although taken prisoner by the Americans twice, Mengele was mistakenly released in June 1945 under the name "Fritz Hollmann," the first of many false identities he used to evade capture. Mengele worked as a farmhand in Bavaria until 1949, when he fled Europe via Genoa, Italy to Argentina using the passport that Gottlieb now has.
Despite many sightings around the world, Mengele kept steps ahead of the Israeli secret service for years, traveling from Argentina through Paraguay, and finally to Brazil. The Angel of Death eluded justice his entire life, dying in 1979 from a stroke while swimming near his home in São Paulo, Brazil. In 1985 his body was exhumed, and in 1992 a DNA test confirmed Mengele's identity. His body was cremated and his family never claimed the ashes.
"Mengle's death while swimming, violates our sense of justice, making this passport even more profound." Gottlieb hopes to retrace Mengele's steps in an effort to understand how a doctor from a good family was transformed into one of the most vile men in human history. "It is amazing that this document has survived for almost 65 years," said Gottlieb. "It clearly demonstrates that Josef Mengele received some serious assistance in making his flight from justice. It would have been impossible for him to travel anywhere under his real name, and it was only because of this document that he was able to evade the authorities and enter Argentina."
Gottlieb believes the passport belongs in a museum, and refuses to sell it into a private collection. "It's probably worth hundreds of thousands, but is public domain," Gottlieb said from his Solana Beach CA office.