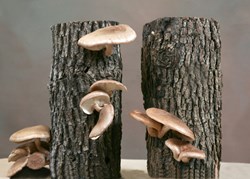 Shiitakes have a lust for life. Eating shiitakes and growing shiitake logs in our homes and gardens enlarges our capacity for living and loving more fully. It's a natural fact.
Perkins, OK (PRWEB) January 28, 2014
Love lies in the shiitake log. The Mushroom Lady should know. She lives with shiitake logs, more than a thousand natural hardwood logs impregnated with shiitake mushrooms. She and her husband Doug make gift log kits, perfect for Valentine's Day, especially The Ma & Pa Shiitake Log Kit, priced at $50, including shipping.
We don't think of mushrooms, fungi, as a symbol of affection and heightened emotional experience. Where does love come into the picture?
In Asia some shiitakes are considered an aphrodisiac. "Donko" shiitakes have a white pattern on the cap. They sell for $80 a pound -- even more if they are log-grown. The white pattern appears as the outer skin dries slightly and the meaty part of the mushroom keeps growing, splitting the skin. "A popular wedding gift!" according to Sandra.
The Mushroom Lady maintains that the world's second-most popular mushrooms increase feelings of joy. "Shiitakes carry and impart an energetic imprint of joy," she said, "just as lavender imparts a signal of softness and relaxation and can help us sleep.
"Mushrooms have qualities unique to each species. They contain compounds that can enhance our well-being emotionally as well as physically. Shiitakes elevate our spirits and emotions, stimulate and strengthen our immune systems, provide low-fat, high-quality protein and promote health. I feel uplifted when I'm with the logs. Isn't that what love is?"
Pheromones – Powerful Love Potions. Pheromones are chemical signals that can attract humans to one another, especially for amorous involvement. Animals, insects, plants and mushrooms also communicate and influence members of their own species by secreting pheromones. While shiitake pheromones don't affect humans in "that way," they do affect other shiitake logs.
"Put a shiitake log by itself, you get some nice mushrooms," Sandra explained. "Put it with one or more other logs and you get more mushrooms. Put a stymied log (one that is having trouble fruiting, or growing mushrooms) with several fruiting logs, and all of them thrive and flourish. That's the idea behind our Lost Creek Mushroom Farm Ma & Pa Kit."
Kits grow mushrooms every two months for 3-5 years, producing increasingly larger yields as the logs mature. "At first they grow only a few mushrooms because they're young. In the second and third years, a log can be covered top to bottom with meaty, organic shiitakes."
The mushrooms will grow indoors like plants and can be placed outside in shade in spring and fall. They require soaking in non-chlorinated water. "Shocking" the log with ice water causes mushrooms to form and break through the bark. Two logs can produce a harvest every month by alternating the fruiting log, or can produce larger crops when fruiting together every two months.
[Lost Creek Mushroom log kits are available in a variety of sizes. All kits come with instructions and recipes. The 5-6" 'Shroomie sells for $18, a 9-10" single log for $30, an 11-12" single log for $37, and the Ma & Pa Kit for $50. The Original 14"-log Tray Kit with its own tray for housing, soaking, and fruiting is $50 and two tray kits sent to the same address are $90. All prices include shipping. Logs 9" and over are fully guaranteed to grow shiitakes.
Customers can learn much more and order online at http://www.shiitakemushroomlog.com. The log kits are available on Amazon.com at slightly higher prices. With high ratings for customer service and satisfaction, Lost Creek Mushroom Farm has received Amazon's Top Seller Award.
A portion of Lost Creek's sales supports Mushrooms in Ghana Project. The Williams' have been promoting and teaching mushroom production in West Africa since 2007. Currently the project is equipping a laboratory to make spawn, the mushroom seed material.