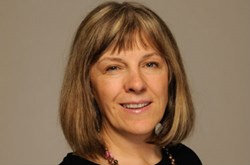 I think people loved Jim [Gandolfini] because he made acting easy, he made acting fun, and he never made other actors feel self-conscious.
(PRWEB) January 26, 2014
For years, comedienne Mimi Kennedy has been making fans laugh. She recently chatted with TVRage.com's News Editor, Allyson Koerner, about working on 'Mom,' 'Veep,' 'The Brink,' and why it's important to laugh. She also opened up about her past work on 'In the Loop' with the late and great James Gandolfini, and what made him so fantastic.
Here's an excerpt from the interview:
TVRage: For a comedy, 'Mom' tackles some dark issues, including alcoholism and breast cancer, which your character suffers from. What are your thoughts on a comedy finding humor in horrible situations? Is that something you appreciate as an actress?
Kennedy: Absolutely. I actually prefer it when comedies deal with real life, what people are going through in real life. My experience is I laugh harder when an experience has been painful. If someone is able to to make it funny in a human way, not in a brutal way, I laugh all the harder. I have a rule for myself: if you felt the pain, you can make the joke.
I haven't been through chemo and radiation myself, but I have many, many friends and family who have. So, I've accompanied them through it. It seems to me that they have always, the ones that I know, they've always joked about it … because it's a long process, and they want to feel alive and humor is a great way to, actually, banish fear. On the other hand, when somebody's making jokes about somebody's pain, in a different way, then I get angry. The answer is: I really prefer it, as long as the comedy is being done in a way that's seen inside the problem, not outside.