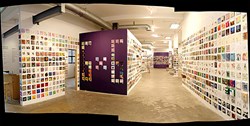 It's more than an art exhibition, it's humanity itself. Congrats! - DNB, Rochester, NY
Rochester, NY (PRWEB) January 28, 2014
Artists searching for an opportunity to get their artwork seen by an international audience should look no further than 6x6x2014. The Rochester Contemporary Art Center (RoCo) is opening its gallery walls for a unique exhibition, and is calling for artwork of all kinds to fill them (regardless of the artist's background or location).
RoCo, the only not-for-profit Art Center of its kind, announces a call for entries for its 7th annual international small-art phenomenon: 6x6x2014. The exhibition will consist of artworks created and donated by celebrities, international & local artists, designers, college students, and children. Anyone may enter up to 6 artworks of any medium (2D or 3D) and there is no fee to enter the exhibition. The art deadline is quickly approaching; pieces must be postmarked by April 19, 2014.
In keeping with the small-art theme, all artwork(s) should be 6x6 square inches (15cm) or mounted to a 6"x6" board. Artworks should be signed only on the back, to be exhibited anonymously for the duration of the show. One of the most unique aspects of the exhibition is the mixing of artworks by artists of all levels and backgrounds. The anonymity concept encourages viewers to consider every artwork equally, regardless of maker or market value. All entries will be accepted, exhibited (with the exception of those with glitter, the only prohibited art supply) and available for sale to the public for $20 each (both in the gallery and globally, online). All proceeds benefit RoCo's thoughtful contemporary art programming throughout the year.
Last year, RoCo's website averaged 1 million hits per day after the 6x6x2013 online gallery was opened to the public, providing huge international exposure. The exhibition has grown to include artworks from 50 countries and every US State. Artists are encouraged to include their contact information on the entry form; as artists names are revealed to the buyer upon purchase. Many artists have secured commissions or further sales through the connections established in this unique opportunity. Artworks will remain on display at the gallery through July 13, 2014 with unsold artworks remaining for sale online thereafter.
Entering their artwork in 6x6x2014 puts the artist or aspiring hobbyist in good company. Major contemporary art stars who have participated in 6x6 exhibitions include: Bill Viola, Philip Glass, Dexter Dalwood, Jerry Uelsmann, Carl Chiarenza, Joan Lyons, Wendell Castle, and many more. Numerous other celebrities who have contributed include: inspirational Zen Buddhist monk, Thich naht Hahn; award winning author, Andrea Barrett; and Congresswoman, Louise Slaughter. Identifying the original artworks created by these celebrities and major artists has become quite competitive, as nabbing one for only $20 is a steal.
Art teachers are also encouraged to participate by sending in a selection of 6 artworks created by their students, giving budding artists a unique professional exhibition opportunity, alongside major international artists.
"Fantastic diversity of talent to share the world of artists in an affordable and inspiring forum! Thank you." - Helen Marano, Washington, D.C.
For more information about 6x6x2014, please visit the website and review the FAQ's: http://www.roco6x6.org.
A short documentary about 6x6 can be found here: vimeo.com/56928919.
Artwork Entries Due: April 20 or Postmarked by April 19
Global Online Preview Begins: May 23 at 10am
Opening Party & Artwork Sale: June 7, 4-10pm ($10)
Global Online Purchasing Begins: June 10 at 10am
Artworks should be mailed directly to:
6x6
Rochester Contemporary Art Center
137 East Ave.
Rochester, NY 14604
USA
Contact: Bleu Cease, Executive Director/Curator, (585) 461.2222,
bleu(at)rochestercontemporary(dot)org
High Resolution Images available upon request.
Rochester Contemporary Art Center (RoCo) is a venue for the exchange of ideas and a not-for-profit 501(c)(3) that was founded in 1977. As a center for thoughtful contemporary art, RoCo provides unique encounters for audiences and extraordinary opportunities for artists.