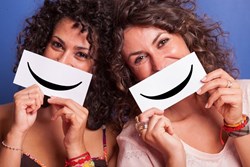 A practical approach to radical wellbeing!
San Francisco, CA (PRWEB) January 26, 2014
Call it apathy, burnout, stress, overwhelm, isolation, boredom, resentment or frustration - individuals and corporate professionals alike know it all too well. Attrition and lack of engagement are off the charts in most companies, and the World Health Organization estimates that stress costs American businesses $300 billion dollars every year.
Enter Carla Morton and Suzanna Gratz. After a chance encounter, Morton, a professional recruiter for SF-based Autodesk, and Gratz, a former Buddhist retreat center director in Hawaii, founded ASPIRE Wellbeing Programs.
According to Morton, "50 years of Gallup research shows that it all comes down to the connections we feel in our lives. Are we making a difference? Do we have enough money to survive? Do we have the physical energy to enjoy life? Do we trust that, if something happened to us, we would have the support of our friends and family? When it comes down to it - these are the things that matter."
"We all love 'before & after' results, and the concept of 'neuroplasticity' is making a huge impact in the personal development world right now, so we provide 24/7 access to a professional assessment, and offer daily exercises to train the brain for greater wellbeing," says Gratz.
Adds Morton, "We've been looking at the top companies and found that, over the last eight years, similar yet less comprehensive wellbeing programs at Wells Fargo, Chevron, Blue Shield, Old Navy and Caesars Entertainment saved them millions of dollars in healthcare and attrition costs. So we replicated some of their systems and gathered the country's most effective workshop leaders, then wrapped in Gallup's research and incorporated neuroscientific tools, and ASPIRE was born.
Individuals interested in learning more can attend one or more of the ASPIRE Pilot Series, taking place across San Francisco in mid-February.
Tickets are now available to the ASPIRE Wellbeing Programs:
Feb 10: CAREER - 'Live the Life You've Worked For'
Feb 11: COMMUNITY - 'How Paying It Forward Pays You Back'
Feb 12: FINANCIAL - 'Happiness is a Positive Cash Flow'
Feb 13: PHYSICAL - 'Master Your Mind, Master Your Weight'
Feb 14: SOCIAL - 'Expect to Be Misunderstood'
---
Inspiring Promotions is a boutique public relations agency dedicated to promoting some of today's best authors and speakers. To schedule a media appearance, contact us at 415-250-1380 or email suzanna(at)inspiringpromotions(dot)com.