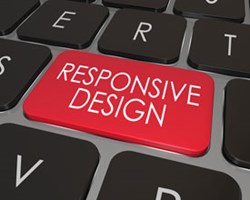 One website design - easily viewed on all Internet devices.
Markham Ontario (PRWEB) January 28, 2014
Website Design company in Markham, In Front Media Web Design, has launched a new mobile-friendly website. Designed in WordPress, their new site is "responsive". Responsive website design incorporates the latest atributes served up in HTML5, meaning the website pages will render on all types of internet device screens. Whether viewed on a desktop, tablet or smart phone screen, all of the web page information is easy to read and will facilitate a positive user experience.
Len Doren of IFM Web Design says, "We've been tracking mobile user statistics over the last while and find that the numbers of mobile users accessing our client's websites has doubled in just one year." Len goes on to say, "When statistics related to web traffic increase in this order of magnitude, it's not difficult to see there's a new user group that wants easy access to not only our company site, but our client's websites too. So, we've strived to ensure our web pages can be accessed on a users mobile device in an easy-to-read format."
Websites without responsive design attributes can still be viewed on a smart phone screen, but users normally have to "pinch" their screens, scroll left, scroll right and scroll up and down as well as zoom out to view web page information. This can be a negative experience for mobile viewers. All the aforementioned extraneous site-viewing activity is not required for viewing websites using responsive design attributes.
Here are some reasons why Responsive Design is so popular:
1) One design is all that is required and is easily viewed on all internet devices.
2) Responsive design facilitates a good user experience on all levels.
3) Mobile internet devices statistics are growing at an unprecedented rate.
4) Mobile sites may be allowed more prominence in the search results of devices such as mobile phones when used to search the internet.
5) 30% of Canadians use smart phones and 86% of those users access the internet from those devices.
Speak to your website designer to discuss how easy it is to "go mobile" with the company website.
IFM Web Services offers Responsive Web Design, website analysis, SEO Press releases, Search Optimization and Facebook pages for businesses. Located in the Toronto area (GTA), IFM has helped business achieve an effective online presence and has helped clients as far away as Bermuda and Mexico. For more on Social Media, SEO or Web Design for businesses, visit IFM at http://www.ifm.ca.