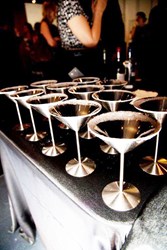 A professionally catered event creates a happy, fun-filled environment.
Toronto, Ontario (PRWEB) January 28, 2014
There's more to catering a corporate event than just deciding on the menu. A professional corporate caterer understands the innate needs of a business and how they can best present themselves to clients and potential clients alike. Toronto's Impeccable Taste Catering brings the entire package together seamlessly.
Rodney Kaufman, CEO and Executive Chef of Impeccable Taste Catering, knows that creating a catered event that is conducive to the business world is of utmost importance to his clients. "Our dedicated and talented team of experts specialize in corporate event catering, so we know how to foster a professional yet relaxing atmosphere that allows your business to present itself in the best possible light," says Kaufman.
Here are Chef Kaufmann's three top reasons why a professionally catered event can be good for employees and for business:
1) Eliminate the worry and event planning: By taking the worry out of the planning and implementation of the catered event, clients are free to mingle with their guests and focus on their business.
2) Team building: By creating enjoyable and memorable corporate parties, IT Catering can facilitate in positive "team building".
3) A happy employee is a productive employee: An event that encourages mingling between co-workers can help to create an environment of happier and more fulfilled employees. Whether it is a cocktail-style mixer or a sit-down meal, a professional corporate catering company can easily adapt to fit any exacting specifications.
Whether In the boardroom or off-site, a good catering company should be well equipped to facilitate breakfasts, lunches and dinner meetings. From convenient disposable trays for internal affairs to full china and glass service for special occasions. Impeccable Taste's business catering model integrates seamlessly into its clients' corporate culture.
Impeccable Taste Catering offers expert event planning and catering for casual lunches, seminars, conferences, product launches, release parties, corporate affairs and weddings, among other social events. Visit http://www.itcatering.ca for more details.