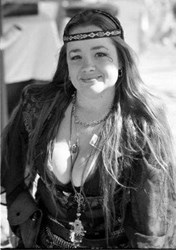 I write damned good smut. I like writing damned good smut.
Haymarket, VA (PRWEB) January 27, 2014
Mojocastle Press, LLC, a publisher of high quality romance, erotic romance and erotica books (i.e. smut books) is pleased to announce the signing of best-selling author Morgan Hawke to a two-book contract. Ryan Kelsey, President & CEO of Mojocastle Press, stated "This is a real coup for us, Morgan Hawke could have had her choice of publishers both large and small; that she chose to publish her books with Mojocastle Press speaks volumes both about Ms. Hawke's commitment to small press and Mojocastle's relevance in the publishing industry." Kelsey goes on to state "Though it may have had something to do with us driving to Morgan Hawke's home in North Carolina and refusing to leave until she had given us a manuscript. We shamelessly plied her with excellent Italian Food (Portifino's Italian Restaurant in Charlotte, North Carolina) and top-rate coffee until she submitted to our desires. "The first book, tentatively titled "Splintered Mirror" is currently in production and is scheduled for a March 2014 release.
About the Author:
Morgan Hawke is a prolific writer of adult fiction including erotic romance and erotica. Her publishing credits include over thirty books and short stories. Morgan Hawke has lived in seven states, and spent two years in England. She has been an auto mechanic, a security guard, a waitress, a groom in a horse-stable, in the military, a magazine editor, a professional belly dancer, the copywriter and publicist for an internet porn corporation, a gypsy for a Renaissance festival, and a stripper. She proudly states "I write damned good smut. I like writing damned good smut."
About the Company:
Mojocastle Press is a full service, royalty paying eBook Publisher, which includes editing, proofreading, cover art, ISBN and digital and print publishing. We hold ourselves to the highest possible standard of contract fairness and an agreement detailing the rights and responsibilities of both parties is signed for each accepted manuscript.
Finest in Romance, Erotic Romance and Erotica…Books for the Discriminating Adult
Social Media Links: