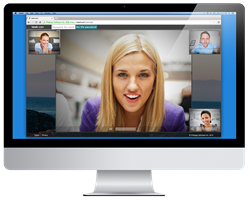 We're seeing rapid growth in WebRTC worldwide. We now have 5000 EasyRTC servers and that number is increasing at 10% per month.
Miami, Florida (PRWEB) January 27, 2014
ITExpo East at the Miami Beach Convention Center from January 28-31, 2014 and the Enterprise WebRTC Pavilion is a great place to see leading WebRTC technology in this rapidly emerging industry.
Priologic is showing their award winning software, EasyRTC, an Open Source WebRTC Bundle of Joy for building enterprise WebRTC apps.
According to Priologic's CEO, Doug Pelton, "We're seeing rapid uptake of WebRTC technology, not just in the US, but worldwide. We've got a large number of EasyRTC downloads and around 5000 of our EasyRTC servers are deployed, we're increasing at 10% per month."
"Last year there where only a few companies working with WebRTC. Now it's widespread, most developers are aware of it and starting to incorporate it into their toolkits," says Pelton.
EasyRTC is a full-stack WebRTC framework that includes three components: a client JavaScript API that simplifies WebRTC coding and hides the differences between the WebRTC API implementations in Chrome, Firefox and Opera browsers.
Working HTML, JavaScript and CSS source code that uses the EasyRTC Client API and can be modified and integrated with existing apps.
And, EasyRTC's highly scalable backend signaling server can be deployed on Windows, Mac OS X or Linux, either on a laptop, on-premise server or in the cloud.
The EasyRTC server is built on Node.js and can be downloaded and installed in about three minutes. Because the code for the backend is completely written in JavaScript, developers can use one language across the whole system. The EasyRTC server allows server side events to trigger JavaScript functions that are securely hidden away from the end user whether code is minified or not, thereby providing the increased security and control required by most enterprises.
Unlike most WebRTC companies, whose free client side SDKs connect to their paid platform-as-a-service, EasyRTC provides all of the source code for the client and server and building block code for your apps for free, under a BSD2 open source license.
Priologic monetizes EasyRTC by licensing pre-built apps such as tawk.com; building extensions that enhance EasyRTC, like native SDKs for iOS, Android and other platforms; and by providing world class support and development services.
For more information about EasyRTC, visit the Priologic kiosk at booth number 514M in the Enterprise WebRTC Pavilion or our website at easyrtc.com.
Company information: Priologic Software Inc. is located in Victoria, BC Canada. Founded in 2003, Priologic has a staff of 30 people. Priologic was exclusively a contract software development firm specializing in building web and mobile applications for large enterprises until late 2012 when a new WebRTC R&D division was set up.
Founder and CEO, Doug Pelton and Priologic's WebRTC team have won three successive awards at the WebRTC Expo's in South San Francisco, Atlanta and Santa Clara for their work on EasyRTC and Tawk.com. Best WebRTC Tool, Best All Around WebRTC and Easiest to Apply WebRTC.
In addition to EasyRTC and tawk.com Priologic developed the PrioPhone softphone, it provides a means of extending existing enterprise Unified Communications (UC) systems and the public switched telephone network (PSTN) using WebRTC technology. PrioPhone interfaces to SIP-based UC systems via Oracle's WebRTC Session Controller (WSC) as a means of providing a highly secure and scaleable platform for WebRTC and a gateway to existing UC systems and the PSTN.
Managing Director, Miles Vasey, runs Priologic's longstanding software development service business that contracts primarily to F500 companies located in the Silicon Valley area. Priologic's services group is busier than ever with WebRTC as an added specialty.