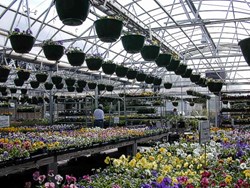 Mobile, AL (PRWEB) January 27, 2014
Whether a homeowner, hobby horticulturist or commercial grower many styles of dependable, affordable and attractive greenhouses are available to help meet planting schedules despite the cold.
"Gothic Arch Greenhouses is far more than the average greenhouse manufacturing business. It's a family owned tradition that has, from the start, focused on providing those interested in plants quality, affordable products in a friendly, knowledgeable and professional manner. Since 1946, the Sierke family has been serving gardeners, horticulturists, and growers and have built a trusted reputation," said William H. "Buzz" Sierke Jr. third generation president of the coastal based business. The Gothic Arch style of greenhouse is one example of quality. Patterned after architecture of old, the Gothic Arch style was chosen as the company's signature due to its strength, beauty and ability to allow optimum light and heat, not to mention its ease of construction. The classic arch style is available in many sizes and materials.
The same spirit of quality is found in the many agricultural related products available through Gothic Arch Greenhouses. By taking the time to listen, the staff is able to match the grower's requirements to a wide selection of greenhouse, grower and nursery supplies including many biodegradable products. From peat moss to plumbing, from containers to heaters, the experienced staff at Gothic Arch Greenhouses is able to fulfill most plant growing needs.
Those who love plants know extreme winter weather can affect spring growth. Gothic Arch Greenhouses is family owned and operated with a reputation as the most trusted name in the business. With a friendly, knowledgeable, professional staff and a vast selection of quality, functional, affordable greenhouses and associated supplies, Gothic Arch Greenhouses is a dependable source quality greenhouses to keep plants warm during the cold months ahead.
For more information on Gothic Arch Greenhouses, visit http://www.GothicArchGreenhouses.com.