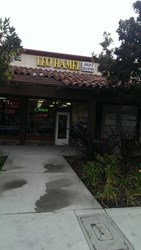 San Diego, CA (PRWEB) January 28, 2014
Leo Hamel Gold & Jewelry Buyers announced that they will open a new gold and jewelry buying office in the San Diego community of National City on January 24, 2014. The new office is located at 1536 #D Sweetwater Road, close to the 54 freeway. The company, which has been buying gold and jewelry in San Diego for over 33 years, will also close its El Cajon location on Main Street on February 15, to consolidate with its La Mesa location on Fuerte Drive.
Gold buying shops range from local jewelry stores, to offices that only buy gold, to buyers that arrive from out of town to set up in hotel rooms for the weekend. Many of these buyers will melt jewelry down to get the gold from it, whether it was unwanted scrap or a precious family heirloom. Leo Hamel Gold & Jewelry Buyers tries to find mint-condition jewelry a new home by reselling it as vintage jewelry in their San Diego showroom, Leo Hamel Fine Jewelers.
Leo Hamel Gold & Jewelry Buyers employs professional Graduate Gemologists who are extremely knowledgeable about jewelry, diamonds, and precious metals and strive to offer the highest amount possible. Because selling old or broken jewelry, antiques, or collectibles can be an emotional task, it's their policy to be sensitive to each customer's situation and never stoop to pressure tactics to close a deal. The company's aim is to make a customer for life, not just for one transaction.
Leo Hamel Gold & Jewelry Buyers pays customers immediately for gold, silver, and platinum, as well as diamonds and fine colored gemstones. They are known for buying and selling preowned Rolex watches, but they also buy most other Swiss as well as German watch brands and collectible American watches, including pocket watches. In addition, they buy sterling flatware and hollowware, collectable coins and paper currency, statues and carvings, antique firearms, military memorabilia, fine art, swords, and more.
The process of selling is simple and confidential, and the customer is in the driver's seat—if at any time he decides not to sell, he simply takes his items and leaves. Or the Leo Hamel team can serve him a cup of coffee and snack while he thinks it over. The only way to discover how easy it is to turn unwanted valuables into cash is to stop by any Leo Hamel Gold & Jewelry Buyers location—now including National City—and experience it.
Leo Hamel Fine Jewelers has been buying and selling jewelry in the San Diego area for over 30 years. In 2013 they were voted San Diego's Best Rings in the San Diego A-List contest, San Diego's BEST Jeweler in the Union Tribune's SD BEST poll in 2010, 2011, 2012 and 2013 and San Diego's Best Jewelry Store in Citybeat's 2013 Readers Poll. Leo Hamel Fine Jewelers has a retail showroom in San Diego near Old Town, as well as nine jewelry and gold buying locations in San Diego, La Mesa, Solana Beach, Oceanside, Escondido, Rancho Bernardo, Mira Mesa/Scripps Ranch, Chula Vista, and National City.
For more information about this press release, please contact Paloma Colón at 619-299-1500 or paloma(at)leohamel(dot)com.