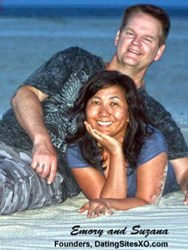 No two dating sites are alike.
Atlanta, GA (PRWEB) January 26, 2014
Online dating review website DatingSitesXO.com has released the "Must Read Guide for Fun, Foolproof Online Dating in 2014". An updated edition of the 2013 version, this year's guide focuses on providing useful, thought-provoking info and tips to both new and experienced online daters. Anyone can enter their email to sign up for Dating Sites XO for free and receive the guide.
The Dating Site Landscape
Dating sites are more popular than ever with over 40,000,000 regular users. Some statistics say over 20% of all romantic relationships in 2014 begin online and there are literally thousands of dating sites available catering to every specific niche. More men than women use dating sites and online relationships tend to lead to marriage in about 18 months, far shorter than offline relationships. As the stigma of online dating wears off and sites become faster and smarter at matchmaking, more Americans than ever are poised to meet someone online.
Tech and Trends in the Online Dating Sphere
One of the biggest trends for online dating in 2014 is the proliferation of dating apps for iPhone, Android, and Windows phone operating systems. These location-sensitive apps allow users to meet available singles in their area, as do "offline" dating programs that encourage communication face-to-face. Other trends in online dating on the horizon are "blind" dating, pay-per-date dating, and incentive-based dating that offer singles a reason to choose specific mates.
Help for Daters
DatingSitesXO.com was designed to help give online daters a fair overview of the dating site marketplace, offering useful information regarding features, price structures, and communication techniques on various popular dating sites. In addition to collect and organizing online dating data, the site features regular reviews and editorials from a team of editors.
"No two dating sites are alike," claims Emory Rowland, co-founder of the site. "The more info we can report from actual users, the better." Dating Sites XO has already cataloged information on over 150 sites and adds at least one new site per week. They regularly offer informational blog posts as well as editorial content to members and have recently introduced an email newsletter.
About Dating Sites XO
Dating Sites XO was inspired by the online dating experiences of Emory and Suzana Rowland, a couple who met online and pursued a relationship from opposite ends of the world and later married. Subscribe for free or visit http://www.datingsitesxo.com/.