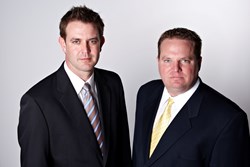 We have experienced rapid growth since we first started our firm seven years ago and our new Alpharetta office will better enable us to meet our clients' needs across the state
Alpharetta, Georgia (PRWEB) January 27, 2014
Sammons & Carpenter, P.C., a Georgia personal injury law firm announces the opening of it's new office in Alpharetta, Georgia. This office is in addition to the firm's main office and Headquarters in Atlanta, Georgia.
"We have experienced rapid growth since we first started our firm seven years ago and our new Alpharetta office will better enable us to meet our clients' needs across the state," says R. Shannon Carpenter, Sammons & Carpenter, P.C., Founder. "We credit our growth with the compassionate approach we take to personal injury law, which is to make what is often a stressful and painful experience as comfortable and positive as possible for our clients," added Mr. Carpenter.
The new Alpharetta office is located at 11175 Cicero Drive, Suite 100, Alpharetta, Georgia 30022 in Fulton County, Georgia.
Sammons & Carpenter, P.C., deals exclusively with personal injury matters including, but not limited to, Car Accidents, Trucking Accidents, Motorcycle Accidents, Medical Malpractice, Nursing Home Abuse or Neglect, Defective Products, Workers' Compensation Claims, and Wrongful Death matters. In keeping with its personal approach to its personal injury law practice, Sammons & Carpenter, P.C., offers free resources and materials on its website as well s free, no obligation initial consultations.
For more information about Sammons & Carpenter, P.C., visit http://www.sclawpc.com/ or contact the firm at (855) 814-8949.